Personal Problems, Marriage, The End of a Career
part four of the Virginia Lee Corbin biography
Long before "Bare Knees" was made, Virginia's private life was getting quite a bit of publicity as a result of problems between her and her mother. It seems obvious that her father had passed away prior to this time, but a date of death is not known.
A Nov. 7, 1927, article states that Virginia had appealed to police for an insanity complaint against her mother. Virginia told police she was "on the verge of being made a pauper" through the dissipation of thousands of dollars she had made in motion pictures. The insanity complaint was based on a suicide attempt by her mother.
In the Feb., 1928, issue of Motion Picture, Virginia is quoted as saying, "I'm through. My mother has never let me have any of the money I earned in pictures." However, it goes on, "everything is ironed out, stating that Virginia "naively" referred to the incident as "a little misunderstanding."
Whatever the ups and downs were of Virginia's troubles with her mother, they obviously were continuing in 1929. According to an article entitled "Does Mother Know Best" in the Sept., 1929, issue of Motion Picture magazine, Virginia claimed "her mother never understood her. Never trusted her. Always belittled her efforts." It goes on to note that Virginia had earned $500,000 over the pervious ten-year period, and all of the money had been spent by her mother.
A May 20, 1929, article seemed to indicate the battle had come to an end. It said, "mother and daughter have agreed on Mark C. Gilchrist, elderly retired businessman, who was a friend of Virginia Lee's father, to become her guardian and business manager."
1929 was probably the most tumultuous year in pictures due to the sound revolution, but it must be assumed, with her vaudeville background and singing ability, that Virginia would not have been intimidated by it. Her first sound film was the Nov., 1929, release "Footlights and Fools" starring Colleen Moore, Raymond Hackett and Frederic March in his novice days. In this society melodrama, Virginia played the part of Claire Floyd. She is friends with Gregory Pyne (March) who is infatuated with Fifi (Moore) and introduces the two of them. It is not clear how successful the movie was or if Virginia did any singing or dancing in it.
In October, 1929, Virginia married Chicago stockbroker Theodore Elwood Krol, 30, the son of Russian immigrants. How much her troubles with her mother contributed to this decision is unknown, but she was only 18 at the time.
"Footlights and Fools" was Virginia's only film in 1929. This could have been due to the change in tastes that was being brought about by the onset of sound pictures. The flapper was quickly becoming passé, and Virginia's cute, Jazz Age persona was not in great demand..
The reduced work schedule could have also been due, at least in part, to Virginia's marriage. She and her husband spent the better part of 1930 in England. Upon her return to the states in Nov., 1930, she told reporters, "When the talkies began to displace the silent films, I decided an English accent would be a great help." Supposedly she spent most of her time in England studying elocution and "voice culture."
Although she may have considered an English accent a great help, it was of no use to her in her first film of 1931. This was a crime drama entitled "X Marks the Spot" which starred Lew Cody and Sally Blane. In this film, she plays the wise-cracking chorus girl, Hortense, and is given some snappy banter with newspaperman Ted, played by Wallace Ford. When Ted asks Hortense how one of her fellow chorus girls could drive a fancy car, have an expensive apartment and employ a maid on her salary, Hortense replies, "Seventy-five dollars goes a long way on Broadway."
One exchange between the two gives a good indication of the type of character Virginia is supposed to be playing. To show his appreciation for information she has given him, Ted tells Hortense, "I'm going to do something very, very nice for you. I'll put your picture in the paper."
"Aw, they always run my picture," she says.
"But I'll run one with your clothes on," he replies.
The film doesn't offer much for a Virginia Lee Corbin fan. Not only is she limited to a two and a half minute sequence in the film, her character is a brunette!
The next film, "Morals for Women," is not available for viewing. This movie is sometimes confused with a 1931 movie called "The Mad Parade" which was re-released in 1936 under the title "Morals for Women."
Her third 1931 movie had her co-starrring with Tim McCoy in a typical "B" western of the period. She has a bigger part in this
movie than "X Marks the Spot" and, with the return of her blonde locks, is much more attractive, too. Unfortunately, that's about all she has to do in this movie is provide an attractive love interest for McCoy. She plays Sally Segrue whose brother is killed by one of the local gang. Not only does McCoy avenge her brother's death, he must overcome the gang in order to deliver a herd of horses to the military.
Virginia appears awkward in the two romantic scenes she has with McCoy, but considering the fact that McCoy was 39 and Virginia was only 20 at the time, that is completely understandable.
The last film appearance of Virginia Lee Corbin was in the 1931 feature "Forgotten Women"which also appears to be unavailable for viewing. Her beauty would have been perfect for the movie screen in the 1930's, and it is unknown why she didn't continue her acting career after this.
One reason could have been her desire to start a family. The Krols' first child, Phillip Harold, was born Aug. 16, 1932, and their second child, Robert Lee, was born Jan. 29, 1935.
By 1936, however, news reports begin to appear that the marriage was coming to an end. An Aug. 21 article states that she had begun a legal fight to regain custody of her two children from her husband. Their address was given as Magnolia Ave., Chicago, Ill. It went on to say that the couple separated the previous Friday, and Krol filed for divorce charging his wife with "excessive use of liquor and asserting that she was unfit to care for the children."
A Nov. 25, 1937, article reported that the couple had been reunited for a year, but had now arranged "a permanent parting." Krol was the one, again, who filed the divorce bill dated Oct. 29, 1937. According to the article, Virginia did not contest the suit which claimed she struck him the previous May and kicked him five days later. It goes on to say she would waive alimony and permit Krol to have custody of the children who were at this time five years old and two and a half years old. Shortly after the divorce, Virginia married another Chicago broker, Charles Jacobson.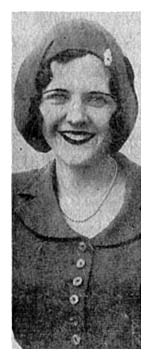 A 1940 article stated that she was trying to make a comeback in the movie "Flotsam" starring Frederic March, who also played in her 1929 feature, "Footlights and Fools." According to the article, she was to serve as a stand-in for Frances Dee. "She says that she is content to tread the comeback road by starting from the bottom," the article states.
If Virginia took part in any other films during the next two years, there is no record of her having done so. The next account of her was, unfortunately, her death notice. She died June 5, 1942, of tuberculosis in DuPage Hospital, Winfield, Ill. For some reason, most sources erringly claim her death was from heart disease. A surviving relative on the Krol side of the family, who was a teenager at the time of Virginia's death, always remembered Virginia having "an awful cough," although it was dismissed at the time as "nothing to be concerned about."
The June 6, 1942, issue of The New York Times says, "Mrs. Charles Jacobson, who was known in silent films as Virginia Lee Corbin, juvenile star, died last night in Winfield, Ill., after a long illness. Her age was 31.
"Surviving, besides her husband, are her mother, Mrs. Frances Corbin, and a sister, Mrs. Ruth Lipari, both of Los Angeles, and two sons by her first marriage, Harold and Robert." Although her mother and sister have since passed away, her two sons, Phil (Harold) and Bob (Robert), are enjoying a comfortable retirement.
Virginia Lee Corbin is not remembered by many today. Her name has not endured the years as Mary Pickford, Lillian Gish or Gloria Swanson. She was not a member of that first echelon of stars during the twenties, and certainly her light began to fade when sound took over the cinema in the early 1930's, most assuredly to the misfortune of moviegoers of that day and to us today, as well.
However, through the few films of hers that survive today, we can see an endearing little cherub who could weep heartbreakingly at a director's command, a lovely teenager who could be a coquette and a comedienne with the best of them, and a beautiful young woman who could play a street-smart wisecracker or a demure lady in distress being saved by the hero.
One obitituary stated, "Death came unexpectedly in Chicago yesterday to Virginia Lee Corbin, who once won millions of hearts as a child star in silent films." It is certainly the misfortune of classic movie fans today that so few of her films survive and she was taken away so young. However, the child/teenager/young lady who can still be seen in those surviving films continues to "win hearts" of anyone fortunate enough to see them today.
copyright 2000 by Tim Lussier. All rights reserved.
---
Part 1
- Part 2 - Part 3 - Part 4
---
HOME
- BIOGRAPHY - REVIEWS - PHOTOGRAPHS - LETTER - FILMOGRAPHY
BACK TO "SILENTS ARE GOLDEN"