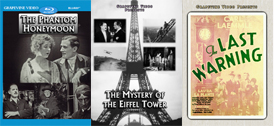 NEW FROM GRAPEVINE VIDEO
GRAPEVINE'S FIRST BLU-RAY RELEASE!! THE PHANTOM HONEYMOON (1919 - 62 min.) With Margaret Marsh, Vernon Steel, Hal Clarendon and Harry Guy Carleton. Presented with a music score by David Knudtson. Also available in regular DVD format.
THE MYSTERY OF THE EIFFEL TOWER (1927 - 130 min.) Starring Felicien Tramel, Regine Bouet, Gaston Jacquet and Jimmy Gaillard. This comedy adventure was directed by renowned French director Julien Duvivier. Music score by David Knudtson.
THE LAST WARNING (1929 - 77 min.) Another scary mystery a la "The Cat and the Canary" from director Paul Leni, with a stellar cast including Laura La Plante, Montagu Love, John Boles, Margaret Livingston, Roy D'Arcy, Burr McIntosh, Slim Summerville, Mack Swain and Bert Roach. Music score by David Knudtson.