Jesse L. Lasky Feature Play Company
Distributed by Paramount Pictures
Release Date: April 22, 1915
51 minutes
Directed by Cecil B. DeMille
CAST: Blanche Sweet (Sonia Martinovich), House Peters (Muhamud Hassan), Gerald Ward (Milos Martinovich), Page Peters (Marko Martinovich), Jeanie MacPherson (Milka), Theodore Roberts (The Burgomaster), William Elmer (Turkish Officer)
Commentary
When we think of films made in 1915, we tend to think of them as being far below the films of a decade later in cinematography, acting, story and overall quality. However, there are standouts from this year such as Cecil B. DeMille's "The Cheat" (and "Birth of a Nation," of course), and now a newly released DeMille yarn, "The Captive" with Blanche Sweet and House Peters. Just as "The Cheat" is far superior to most 1915 output, "The Captive" is head and shoulders above the average release from that year and actually stands up to
much of what was shown in theaters in the next decade.
Hearing about the setting may throw some off as unappealing - the Balkan Wars of 1912-13 - but as with any good picture set in a larger than life setting, it must focus on a story on a personal level, and with that, DeMille succeeds admirably.
The Story
Blanche Sweet is Sonia, a Montenegran peasant. She lives with her older brother and an adolescent brother, Milos. House Peters plays Mahmud Hassan, a Turkish Bey. When war breaks out between Turkey and the Balkan States, Sonia's brother is called to fight for Montenegro (one of the Balkan states), and is killed in battle. Hassan, of course,
leads his Turkish soldiers into Sonia's region.
Hassan is captured, and, as was the practice in Montenegro, prisoners of war were given to the women to work in the fields. Hassan ends up with Sonia. Hassan is not very good at manual labor, and Sonia occasionally prods him with her gun and uses the weapon to assert her authority - even wielding a whip at one point. At night, he is locked in his room. Sonia's little brother, Milos, though, likes Hassan, and the two become friends.
It is apparent Sonia and Hassan are attracted to one another, and DeMille does an excellent job of hinting at this with a smile, a glance and other subtle clues. In one instance, a flirtatious friend finds Hassan working in Sonia's cabbage patch and tries to convince him to come and work for her. Sonia comes up on this scene, drives the woman away and threatens Hassan with a whip. Hassan is angered, but controls himself and walks away with Milos. Sonia falls to her knees and cries. When she gets back to the house, she finds Hassan's coat and notices where he unsuccessfully tried to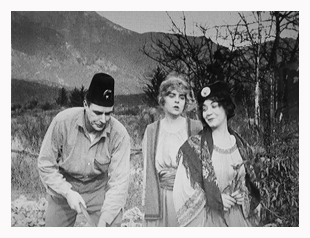 repair a torn sleeve, She repairs it properly for him.
This peaceful setting is lost when the Turks invade Sonia's village. When they come to her farm, they mistreat Milos, take his pet goat, and their commanding officer tries to molest Sonia. Hassan comes up on the soldiers and the boy, and when they realize who he is, he is able to calm them and has them return Milos' goat. When he arrives at the house, the officer, Hassan's superior, is still trying to force himself on Sonia. When the officer tells Hassan to leave, he wants to obey his superior, but he cannot leave Sonia to this man's lecherous advances. He throws the officer out and, as a result, must barricade himself in the house as the soldiers attempt to break in. All is saved in the end when the Montenegrans retake the village.
The war ends, peace is declared, and all prisoners are released. Hassan asks Sonia to come with him, but she replies, "But you are a great noble - I am a peasant," adding that his people would never accept her -- so she refuses. The story
ends with a reconciliation of the two, but we won't spoil that ending here.
The kind that always appeals to us
As noted, DeMille has provided a love story first and foremost and placed it against a backdrop of the Balkan Wars. He doesn't attempt to give us a history lesson, but, instead, provides a beautiful story of love, the kind that always appeals to us. That is, we have a rich Turkish Bey and a Montenegran peasant - two people from entirely different worlds who are thrown together in the midst of a war and fall in love. The scenes where Sonia teaches Hassan to work on a farm - from cooking to hoeing - are charming and sometimes amusing. DeMille then deftly weaves in intriguing drama when the war disturbs their idyllic life together. It's another great example of how the collaboration of DeMille and scriptwriter Jeanie MacPherson resulted in a superb film.
No doubt, this story is all the better due to its two leads - Blanche Sweet and House Peters. Sweet proves that she does just fine without the oversight of D.W. Griffith. She had just recently come to Jesse Lasky, somewhat reluctantly. She didn't want to leave Griffith, but, when she told him of the offer she had from Lasky, he wished her well in her future endeavors. She was hurt, hoping that he would make some offer for her to stay. Nevertheless, her performance is equal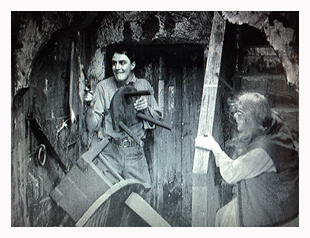 to anything she did with Griffith -- spunky, emotional, and endearing, and, of course, in spite of her peasant dress, Sweet is just as beautiful as ever.
Although Peters never made a great picture in the silent era, he did work regularly - usually as a leading man - and added much to some very enjoyable pictures. This can be evidenced by some titles that have been or are still available on home video such as "The Leopard Woman" (1929), "Silk Husbands and Calico Wives" (1920), "Human Hearts" (1922), "Head Winds" (1925), and "Raffles" (1925), to name a few. He is very likeable in this film and seems very comfortable in the role, just being himself and without gestures or expressions that would imply one nationality over another. Born in England, he sailed around the world as a youth, worked in South Africa, served in the Boer War and
acted on stage before being signed by Jesse Lasky. He has over 50 silent movies to his credit between 1913 and 1928. Peters died in 1967 at age 87.
Good reviews
Variety gave the movie a thumbs up. "The story holds up well, and while built on a light foundation, carries sufficient interest. The playing of Miss Sweet and Peters is worthy of comment. Some pretty exteriors and interiors are shown, the details being well worked out. The battle views are well staged." (1) Moving Picture World was positive but noted some minor shortcomings. "The story in itself is rather scant for five reels and suffers at the end from an anti-climax and a fortuitous meeting that serves to unite the lovers. But to counterbalance shortcomings, there is excellent acting . . . and the charm of picturesque settings perfectly photographed. The atmosphere of the production is out of the ordinary and of fine artistic quality, due to a wise choice of locations, care in the furnishing of interiors and painstaking direction." (2)
"The Captive" on Blu-Ray from Olive films is a beautiful print, a bit grainy in some instances, with original tints. It was discovered in Paramount's vaults in 1970, and this is the first time it has been brought to the home video market. The sets and cinematography are excellent - nothing offered on a huge scale such as expansive battle scenes - only very engrossing and stirring scenes such as Hassan's capture, the arrival of the Turks at Sonia's farm and the molestation of Sonia by the Turkish officer. The music by Lucy Duke is true to the mood and tone of every scene, and the pervasive use of strings superbly suits the locale, as well (play some of the music without looking at the film and you'll see how lovely the themes are). "The opportunity to create an original score to a DeMille silent film is a singular opportunity- a musician's dream come true!" said Duke. "I hope that the music is true to the era while remaining valid in a contemporary context, shining a new light on this film." (3)
There are no extras on the DVD. It runs 51 minutes, projected in a 1:37:1 aspect ratio with stereo sound.
References
1. "The Captive" review. Variety. April 30, 1915.
2. "The Captive" review. Moving Picture World. May 1, 1915.
3. "Olive Films Releases One Lost DeMille Silent and Sci-Fi B-Movie Classics." OliveFilms.com. August 24, 2016.

Copyright 2016 by Tim Lussier. All rights reserved
Full Moving Picture World review - May 1, 1915