"Sinners In Silk" (1924)
Starring Adolphe Menjou, Eleanor Boardman, Conrad Nagle, Jean Hersholt, Hedda Hopper and Virginia Lee Corbin
MOVIE WEEKLY
September 13, 1924
"Sinners in Silk" is "Black Oxen" in trousers. The rejuvenation of Corinne Griffith gave us a thrill, and now you will see the same monkey shines bring youth to that charming fellow, Adolphe Manjou. Eleanor Boardman seems doomed to play flapper roles, but she does it very charmingly. In her current interpretation, she likens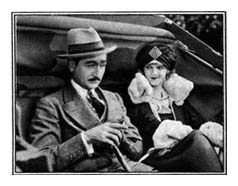 men to books and tells cynical Adolphe that he is not a book that she would cast away, but a dangerously interesting volume.
"I don't like the way he looks at you!" warns Hedda Hopper, her latest celluloid mother.
"Sinners in Silk" also gives us a new verison of the swimming pool filled with cocktail quaffers ­ this time aboard the steamer Majestic. It is Eleanor in a bathing suit that makes M. Menjou decide to regain his youth. His only opposition is that money-on-a-stick, John Patrick, and the pepsodent Conrad Nagle. Adolphe does very well and is almost successful with his wiles at his palatial apartment on the roof of a skyscraper. In spite of some of the incongruities, "Sinners in Silk" is quite entertaining ­ perhaps Adolphe and Eleanor make it so.