Order a reprint of this photo!
Click here for ordering instructions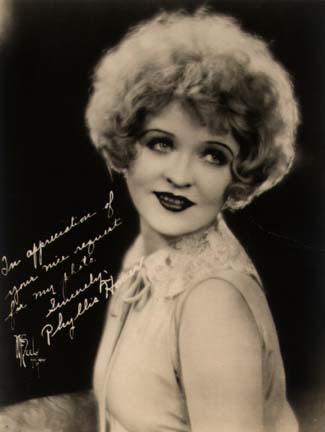 Phyllis Haver
Phyllis Haver was born Phyllis O'Haver Jan. 6, 1899, in Douglas, KS. At four years of age, she and her mother moved to Los Angeles where she said she and Bebe Daneiels played together as children. At the age of 14, she beame a pianist in a silent movie theater so she could have "pretty clothes like the other girls," and which her mother could not afford. She attended Manual Arts High School and became close friends with Marie Prevost. She decided to audition for Mack Sennett where she said her audition consisted of having the attractiveness of her knees assessed by a bored Mack Sennett. She was hired as a bathing beauty in 1915 and appeared along with some of the biggest stars at Keystone over the next seven years such as Bobby Vernon, Gloria Swanson, Ford Sterling, Ben Turpin and others. According to Haver, she did more than bathing beauty parts - she willingly played any part given to her, which included playing a boy, if necessary, and, at one time, as many as nine parts in one film. She said she stayed on with Sennett while friends such as Marie Prevost and Gloria Swanson moved on to bigger things because she and her mother needed the steady income. One of her best roles in a two-reeler came in 1923 when she proved to be an equal match for Buster Keaton in his outstanding comedy "The Balloonatic." Also, that same year, she left Sennett to star as Polly Love in Maurice Tourneur's "The Christian" with Richard Dix and Mae Busch. Disappointingly, the movie made stars of Dix and Busch but "nobody noticed me in it." She worked regularly in features over the next few years in such films as William S. Hart's "Singer Jim McKee" (1924), James Cruze's "The Fighting Coward (1924) with Ernest Torrence, Mary Astor and Cullen Landis, "So Big" (1924) with Colleen Moore, "Up in Mabel's Room" (1926) wtih girlhood friend Marie Prevost, the John Ford production of "3 Bad Men" (1926), "The Nervous Wreck" (1926) with Harrison Ford, as Shanghai Mabel in the outstanding WWI epic "What Price Glory?" (1926), and Victor Fleming's "The Way of All Flesh" (1927) with Emil Jannings, among many other films. However, true stardom seemed to elude her until Cecil B. DeMille chose her for the lead role of Roxie Hart in "Chicago" (1927) in which Haver's outstanding acting ability quickly became evident. Another film available for viewing today that shows Haver at her best is D.W. Griffith's "The Battle of the Sexes" (1928) with Jean Hersholt. After a handful of films over the next year or so, Haver met and married Manhattan millionaire William Seeman. They divorced in 1945. Haver did not remarry and retired to Connecticut where she died at age 60 in 1960 from an overdose of bartibuates. The death was ruled a suicide. Some have conjectured that she was still despondent over her divorce 15 years earlier and distraught over the death of Mack Sennett earlier that year. She had appeared six years earlier on the TV show "This is Your Life" which paid tribute to Mack Sennett and his career.
Selected films of this star available for viewing:
Yankee Doodle in Berlin (1919)
The Balloonatic (1923) (Buster Keaton short)
The Nervous Wreck (1926)
Up In Mabel's Room (1926)
Three Bad Men (1926)
What Price Glory (1926)
Chicago (1927)
The Battle of the Sexes (1928)