Order a reprint of this photo!
Click here for ordering instructions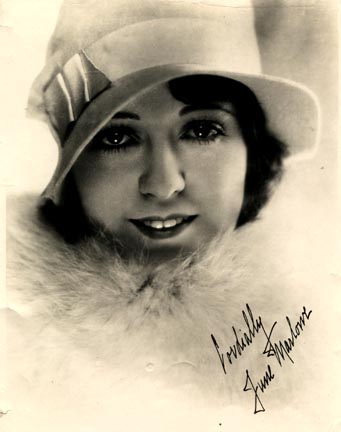 June Marlowe
Selected films of this star available for viewing:
The Clash of the Wolves (1925)
Don Juan (1926)
The Night Cry (1926)
June Marlowe was born Gisela Goetten in St. Cloud, Minnesota, on November 6, 1903, and could speak both German and English equally well. She supposedly was discovered in a school play at Hollywood High by Mal St. Clair who gave her a small part in the "Fighting Blood" series. This led to a part in "When a Man's a Man" (1924) for Sol Lesser in which she got good review. Then she was brought to the attention of Jack Warner and made the first of several films with Rin Tin Tin, "Find Your Man" (1924). Warner's promoted her as "The Most Beautiful Girl on the Screen" and she was named a 1925 WAMPAS Baby Star. Her most significant role of the silent era was as Trusia in the 1926 Warner Brothers production of "Don Juan" with John Barrymore. Not long after this, Universal signed Marlowe, and, after a few pictures, they sent her to Germany. She made was in films and on radio there and, because of her excellent German, she was very popular with the German public. When she returned to the United States in 1930, sound had taken over the movies, and she found herself in low budget pictures for smaller studios such as Mascot. It was at this time she was asked to play the role of Miss Crabtree in the Our Gang series, but Roach suggested a blond wig to more suitably complement the blond Jackie Cooper with whom she became friends onscreen and off. She made six of the Our Gang shorts which secured her place in film history. After a few more indistinguishable features, she retired in 1932 and married Hollywood businessman Rodney S. Sprigg. The couple traveled extensively, and June seemed content to spend her time with gardening, charitable work and travel. She was pleased with the revival of interest in the Our Gang/Little Rascals films with the advent of TV in the 1950's which resulted in her writing a couple of children's books in the 1960's. Sprigg died in 1982, and Marlowe passed away two years later.