Order a reprint of this photo!
Click here for ordering instructions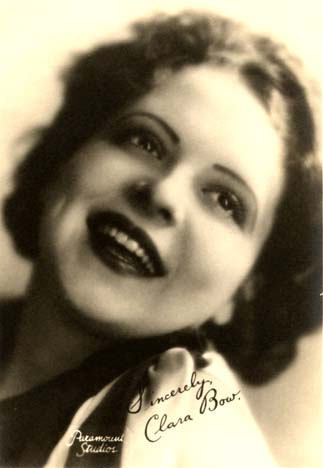 Clara Bow
Born: July 29, 1905 in Brooklyn, NY. Clara Bow was on only child. Her father was an alcoholic and her mother was mentally unstable. She was able to escape her sordid life when she entered a 1921 fan magazine contest and won. Her first big break came in 1921 when she landed a supporting role in "Down to the Sea in Ships" (1923). The role required her to masquerade as a boy, and, although it was a drama, it gave her the opportunity to show her talent for comedy, as well. The movie was a big hit, and Clara went on to appear in four more films before signing with B.P. Schulberg. During 1924 and 1925, she appeared in 21 films, most of them forgettable and many of them on loanout to small independent companies such as Banner, Gotham and Arrow. One of the best, though, was the Schulberg Produced (for his Preferred Pictures) "The Plastic Age" (1925) about a college flapper who leads an innocent young athlete astray. She received her first real critical notice, though, with "Dancing Mothers" in late 1925. The film starred Alice Joyce, and Bow was her spoiled, jazz-age daughter. Bow's lively spirit and energy on the screen served as an excellent counterpoint to Joyce's cultured demeanor and was perfect for the role. One of Bow's best roles of her career came in 1926. "Mantrap" co-starred Ernest Torrence and Percy Marmont and cast Bow as a jazz-age city flapper who impetuously marries the backwoods Torrence who takes her back to his remote town of Mantrap. The very handsome and dignified Marmont comes along, and Bow plots to run away with him. The film had pathos, humor and drama, and, again, Bow was perfect for the role. Infamous British author Elinor Glyn (who shocked Puritanical America with novels such as "Three Week") coined a term called "It" which was supposed to describe someone who had all the qualities, sexual and otherwise, to be appealing to the opposite sex. Glyn announced that Bow most exemplified "It," and to cash in on this publicity, a movie entitled "It" (1927) was specially written for Bow and co-starred veteran actor Antonio Moreno. Actually, the movie was very good and allowed Bow to once again play the flapper, but with depth and opportunities for drama. She is a shop girl who falls in love with store owner Moreno, and it compares favorably with Mary Pickford's "My Best Girl" which had a similar theme and was released the next year. Bow also had the distinction of co-starring with Buddy Rogers and Richard Arlen in the first movie to win a best picture Oscar, "Wings" (1927). Although she played a flapperish young girl doting on the handsome boy next door, it was not a "flapper" picture by any means with the tragedy of war realistically depicted as Bow follows her life-long love to France. Bow's popularity was unmatched in the late twenties, and there was no hesitating when the sound era arrived. Her first talkie, titled appropriate enough, was "The Wild Party" (1929) which was followed by 11 more sound films, almost all of which were hardly memorable. Bow epitomized the flapper of the Jazz Age, but the Jazz Age was gone, and,which the onset of the Depression, movies took on a whole different perspective, and Bow seemed somewhat of an anachronism. Clara Bow supposedly had affairs with many of her leading men such as Gilbert Roland and Gary Cooper, as well as one of her directors, Victor Fleming. She had a sordid and very public trial involving her friend and secretary Daisy DeVoe over charges of embezzlement. Although she married cowboy actor Rex Bell in 1931, she was beginning to experience emotional difficulties that would haunt her the rest of her life. She had two sons, born in 1934 and 1938, and experienced marriage problems, eventually separating from Bell. He died in 1962, and Bow passed away Sept. 26, 1965.
Selected films of this star available for viewing:
The Plastic Age (1925)
Dancing Mothers (1926)
Mantrap (1926)
It (1927)
Wings (1927)
Hula (1927)