Order a reprint of this photo!
Click here for ordering instructions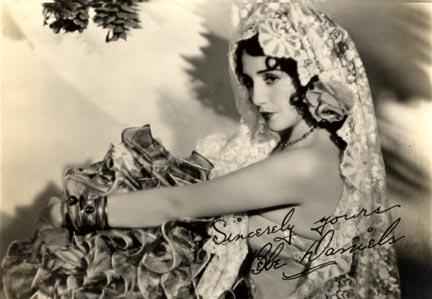 Bebe Daniels
Phyllis "Bebe" Daniels was born Jan. 14, 1901, in Dallas Texas. Since her father was a theatrical manager and her mother a star in the theatre, Bebe was on the stage from the time she was born. Although she had made her film debut at age seven in Selig's "The Common Enemy," she continued in school until answering an ad for a leading lady for Harold Lloyd in 1915. Although she was only 14, she began working with Lloyd in his Lonesome Luke comedies and stayed with him as he developed his glasses character over the next few years. Daniels, unlike most comics' leading ladies, was a presence on the screen and an integral part of the comedy, no mere fixture. Her charisma and talent were obvious, and she gained the attention of Cecil B. DeMille who signed her away from Lloyd and the Hal Roach studios in 1919. Her first role for DeMille was in "Male and Female" (1919). It wasn't a large part, the role of a temptress in a Babylonian flashback, but it brought her notice. She continued to prove attractive and alluring with continued "sexy" roles in "Why Change Your Wife?" (1920) and "The Affairs of Anatol" (1921) in which she is the seductress Satan Synne. These were not her only films, though. In 1920, she made seven films and six more in 1921 co-starring with such leading men as Robert Warwick, Harrison Ford and Wallace Reid. In 1924, she costarred with Rudolph Valentino in "Monsieur Beaucaire." In all, she made 51 films for Paramount between 1919 and 1928 becoming one of the most popular stars on the screen. A 1921 film entitled "The Speed Girl" cashed in on an incident in which Daniels spent 10 days in jail for speeding. No one knows for sure how much of a publicity stunt this was, but Daniels pretty much spent 10 days in "luxury" with her cell furnished by an interior decorator and constant visitors. Almost all of Daniels' films of the twenties were lightweight comedies, but they were enormously popular with audiences. Oddly enough, she was released by Paramount in 1928, but proved she could continue into the sound era with creditable singing in RKO's "Rio Rita" (1920), as well as "Love Comes Along" (1930) and "Dixiana" (1930). Critical acclaim came her way in 1933 as a fading theatrical star in "42nd Street." Bebe married silent film leading man Ben Lyon in 1930 had a daughter in 1932 and adopted a son after that. In 1936, the Lyons moved to London where their radio show, "Hi Gang," was extremely popular during the war years. After the war, the returned to the United States briefly, but returned to their beloved England in the 1950's and appeared in a long-running TV show entitled "Life with the Lyons." Although Bebe hadn't done any screen work since the late 1930's, she and Lyon did make two big screen versions of "Life with the Lyons" during the 1950's. Bebe died at her London home March 16, 1971. For more on the Bebe Daniels-Harold Lloyd years, see "The Girl and the Boy." Also, see Rick Levinson's article on Bebe Daniels "The Good Little Bad Girl."
Selected films of this star available for viewing:
Male and Female (1919)
Why Change Your Wife? (1920)
The Affairs of Anatol (1921)
Monsieur Beaucaire (1924)
Lovers in Quarantine (1925)
Miss Bluebeard (1925)
Feel My Pulse (1928)