The home of
Cecil B. DeMille
2000 DeMille Drive
Laughlin Park neighborhood, Hollywood, California, c. 1923
fifteen room Spanish-style mansion built in 1914,
purchased by DeMille in 1916 for $27,893
furnished in "an eclectic mix of Chippendale and Victorian furniture"
The photo below is the left wing entrance from the driveway (c. 1920).
(Note how the foliage differs around this portion of the house in the three photos below.)
Same view, different direction (date unknown).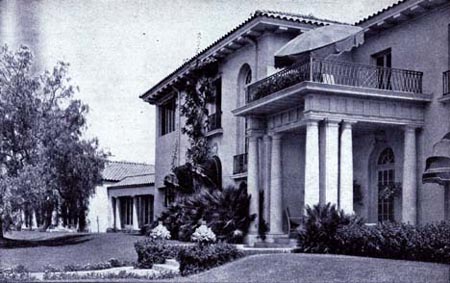 DeMille poses in front of his home (c. 1923).
Below is a rear view of the house and part of the grounds (c. 1923).
---
Return to "Homes of the Stars" page