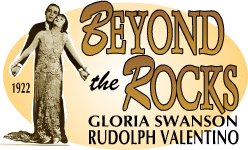 Thoughts on Gloria Swanson
by Brooke Anderson, her granddaughter
Gloria Swanson was a woman of immense curiosity. She read periodicals, newspapers, magazines and books from all over the world on everything from organic farming, air purifier systems, DDT in cattle, soil conditions, to political issues, geodesic domes, and world economic views. She had a wealth of interesting friends from scientists, to inventors, to creative people in theater, arts, and music. Unsprayed natural foods were the utmost importance to her. One night after the theater we dined at Sardi's. She brought with her a hand-hammered tin lunch box packed with her supper of raw almonds, a sardine sandwich on cardboard-like bread, bottled water, and a seaweed salad. Mostly everything she ate was brown or shades of green with the exception of goat's milk ice cream.
She appreciated her public to whom she owed her fame thus she was always gracious with everyone who met her on the street, but she was intensely private about her family life. We spent hours in long conversations in her New York apartment. She always listened with love and without judgment. A sign above her kitchen door emphatically stated "Think." That is what she expected of herself and everyone else. She said there was nothing one couldn't do"just do it" Way before the Nike culture. Her commanding presence was that of a lady, always dressed in hats, a scarf, or a turban, and gloves. Her porcelain skin and red, always red lipstick, were an exquisite combination with her deep blue eyes, adorned with inch-long false black eyelashes, and teeth that glowed with what my mother often said, "an extra layer of enamel." She laughed frequently and enjoyed life to the fullest, never a gossip, never one to reminisce. She lived in the present, full of spiritual quest and gratitude for whatever the day would bring
---