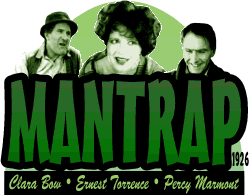 Paramount
CAST: Clara Bow (Alverna), Ernest Torrrence (Joe Easter), Percy Marmont (Ralph Prescott), Eugene Pallette (E. Wesson Woodbury), Tom Kennedy (Curly Evans), Josephine Crowell (Mrs. McGavity), William Orlamond (Mr. McGavity), Charles Stevens (Indian guide), Miss Dupont (Mrs. Barker)
Synopsis
Joe Easter is a tall, lanky, middle-aged bachelor who runs a general store in the backwoods of Canada, a place called Mantrap. Deciding he needs a break from this secluded existence, he goes to Minneapolis for a visit. There he runs into a young, lively, beautiful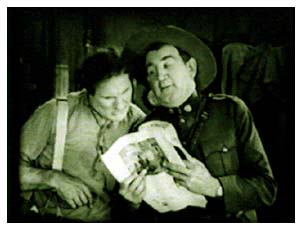 manicurist, Alverna, and, surprisingly, marries her. She seems happy enough until divorce lawyer Ralph Prescott, who is camping for the first time in his life to get away from women, comes along. Joe invites Ralph to stay with him and Alverna thinking Ralph will be a good influence on his young wife. Her flirtatious nature just can't be suppressed, though, and soon she's convinced Ralph to take her back to the city with him. When Joe finds out, he get his gun and goes looking for the errant couple.
Synopsis
"BOW JUST WALKS AWAY WITH THE PICTURE"
"Bow just walks away with the picture from the moment she steps into camera range. Every minute that she is in it, she steals it from troupers Ernest Torrence and Percy Marmont." This was what Variety had to say about Clara Bow in "Mantrap," and it describes very well just how powerful her personality was on the screen. She made several good films that were excellent vehicles for her sexy joie de vivre, and "Mantrap" is one of the best.
First of all, Paramount came up with a good story -- actually a serious drama of backwoods adultery by Sinclair Lewis that was converted to a light comedy with just a touch of the dramatic remaining. The screenplay is credited to Adelaide Heilbron and Ethel Doherty, but it would make more sense that director Victor Fleming and title writer George Marion, Jr., (who wrote some excellent titles!) are more responsible for the finished product. Also, it would be unimaginable that "Mantrap" would be anything but good with stars the calibre of Bow, Torrence and Marmont, a talented director such as Fleming, and one of the best title writers in the silents (Marion), as well as one of the best cameramen -- James Wong Howe (the cinematography is superb!).
It should be mentioned that, at this time, Bow was not considered a big star by any means, and Fleming had, as yet, to make a picture of significant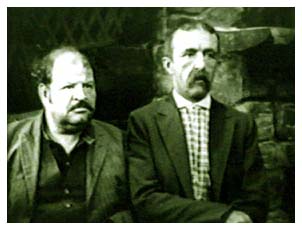 stature. "Mantrap" was a major hit with the fans and critics and turned out to be a star-maker for both Bow and Fleming.
"EACH ONE IS PERFECTLY SUITED TO THE PART"
No story, no matter how good, is going to succeed, though, if the actors are miscast, but, in "Mantrap," each one is perfectly suited to the part. Torrence was an extremely talented character actor who could epitomize villainy in roles such as Luke Hatburn in "Tol'able David," or he could be the subtle comedian in roles such as the lovable oaf Joe Easter of "Mantrap." In "Mantrap," he's a big teddy bear that Alverna is punching in the arm one minute and kissing the next. Whether she's flirting with another man or sitting in his lap lovingly, Joe is still sedate and unnerved by it all. This doesn't mean that Torrence gives a lifeless peformance; he just plays his part with reserve, never using broad gestures or overexpressive facial contortions to convey an emotion. When he learns that Alverny and Prescott have run off together, we see anger in his face, and though he plays it with restraint, the message is clear.
Percy Marmont turns in a good performance, too. He is a harried divorce lawyer who is tired of dealing with these messy affairs and the flirtatious, aggressive women involved in them. When he goes camping in the backwoods with a friend to "get away from it all," it is easy to believe he is inept at the whole game and totally ill-suited for this lifestyle. When Alverna begins making advances, he refuses to give her any encouragement, but he does so with politeness. Marmont, too, has a naturalness to his acting that doesn't require exaggeration.
And this naturalness is one reason Clara Bow is such a talented actress, although her naturalness is of the more exurberant variety! No other actress was better at being sexy, lively, animated and expressive on the screen and could do it so that it all appeared a natural part of her personality -- no effort, no exaggeration to get something across to the viewer. She was just being herself, but, then again, Bow
couldn't be herself without sparks flying. As author Jeannine Basinger (Silent Stars, Alfred A. Knopf, 1999) said of Bow in "Mantrap, "She's shown in close-up after close-up, and allowed to dance, wiggle, and jump into the laps of unsuspecting -- but delighted -- men. She's outrageously flirtatious and highly aware of what she's doing. . . She's the prize to be won, and the primary plot motivation. After 'Mantrap,' she is a star."
Noted silent film historian William K. Everson believed Paramount enhanced Bow's appeal by their choice of costars. "Paramount stressed Clara Bow's youth, vitality and sexiness by giving her co-stars who were older, stolid, virtually devoid of sex-appeal, and often thin! Although it's a good film on its own, it may well be that 'Mantrap' sets off Clara's bounce and vivacity by pairing her with two mature and far from robust leading men -- the much older character actor Ernest Torrence and the emaciated Percy Marmont. Clara was forever tossing her curls, pulling up her stockings, and flashing a gleaming smile, frequently stressing her sexiness . . ." (American Silent Film, Oxford University Press, 1978).
Director Fleming brought out the best in Bow, too, more so than any director had up to that time. It is common knowledge that the youthful 20-year old had an affair with her 43-year old director. Although the relationship was sexual, Fleming also took a paternal attitude toward Bow, believing in her abilities as an actress and guiding her. According to biographer David Stenn (Clara Bow: Runnin' Wild, Doubleday, 1988), no one had ever treated Bow the way Fleming did. "(He) treated her as a talent of limitless potential." Stenn reports that Fleming once praised Bow's talent to a friend by saying, "A temperament that responded like a great violin. Touch her and she answered with genius."
"SHE COULD FLIRT WITH A GRIZZLY BEAR"
Variety (July 14, 1926) said, "In this particular role, that of a fast-working, slang-slinging manicurist from a swell barber shop in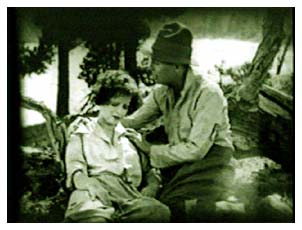 Minneapolis, who marries a big hick from Mantrap, she is fitted just like a glove." The New York Times reviewer said, "She could flirt with a grizzly bear." In his Chicago Daily News review (July 21, 1926), Carl Sandburg said, "The smartest and swiftest work as yet seen from Miss Clara Bow is here in this. Ernest Torrence and Percy Marmont come through, too, with pretty nice work."
Everything about "Mantrap" works together like a well-oiled piece of machinery so that it runs smoothly and enjoyably from beginning to end. Not only are the main characters developed well, peripheral characters add much to the story, in particular, Josephine Crowell as the crotchety Mrs. McGavity. Tom Kennedy does a fine job as Curly Evans, the mounted policeman, who encourages Joe to go to the city for a good time using a magazine with a picture of a girl in a bathing suit as incentive.
Percy Marmont reminisced about his work on "Mantrap" with Anthony Slide (Silent Players, The University Press of Kentucky, 2002). "I enjoyed it very much because it was done by people that I liked very much, not only Clara Bow, who was a sweet woman, but my dear friend Ernest Torrence and one of my favorite directors, Victor Fleming. He was a lovely director. We shot it all up in the San Bernardino Mountains. A very happy experience."
This is no doubt one of the main reasons why "Mantrap" succeeds so well -- this "happy experience" comes across on the screen in a complementary chemistry among all those involved.
copyright 2003 by Tim Lussier. All rights reserved.

---