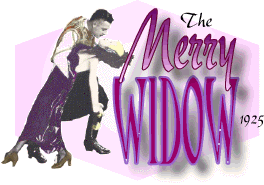 Synopsis/Commentary
Produced by MGM
Cast: John Gilbert (Prince Danilo), Mae Murray (Sally O'Hara), Roy d'Arcy (Crown Prince Mirko), Tully Marshall (Baron Sixtus Sadoja), George Fawcett (King Nikita), Josephine Crowell (Queen Milena), Albert Conti (Adjutant to Danilo), Don Ryan (Adjutant to Mirko), Hughie Mack (Innkeeper), Sidney Bracey (Danilo's footman), Dale Fuller (Sadoja's maid), George Nichols (Janitor)
Synopsis
Crown Prince Mirko, an obnoxious and uncompassionate egotist, is heir to the throne of Monteblanco. His cousin, Prince Danilo, who is well-liked and very much a ladies' man, is second in line for the throne. When American dancer Sally O'Hara arrives with her troupe in Castellano, Prince Danilo immediately falls for her and is able to arrange an evening alone together. Although he initially tries to seduce her, she resists, and he falls in love with her. Mirko is hosting a party that becomes a drunken "orgy," and decides to bring the partygoers to Danilo's apartment to surprise him during his evening with Sally. When he does, Danilo is enraged, and announces he plans to marry Sally. Mirko tells his parents, the King and Queen, about Danilo's plans, and, citing his duty to his country, they talk Danilo out of the marriage. Sally waits in her wedding dress for a groom who never shows. Baron Sadoja, who is a disgusting old roué, is the richest man in the country. His money is the backbone behind the throne. He convinces Sally to marry him when he tells her his millions will make the throne bow to her. He dies on their wedding night, and Sally goes to Paris, her social activities bringing her the title of "The Merry Widow." Mirko goes to Paris to convince Sally to marry him, although his real motive is to keep Sadoja's millions from leaving the country. Danilo follows. Because she is convinced Danilo only wants her so the fortune won't leave Monteblanco, she makes him jealous by saying she is engaged to Mirko. When Danilo strikes Mirko, he is challenged to a duel. Danilo agrees to the duel, but has no intention of trying to win it. Fate eventually takes a hand in the lives of Danilo and Sally to reunite them.
Commentary
No one seems to like Mae Murray. One of the most acerbic assessments of the actress to appear in a contemporary publication is by Anthony Slide in his book, Silent Players (The University Press of Kentucky, 2002). He quoted Blanche Sweet as saying that Mae Murray "gave a fine performance in 'The Merry Widow,'" although he emphatically disagreed with Miss Sweet's opinion. Slide went on to say, "She doesn't act - she poses. Even her dancing style is antiquated. . . Of her forty films, 'The Merry Widow' is the only one worthy of respect -- and not because of the presence of Mae Murray."
The famous poet Carl Sandburg, during the time when he was reviewing movies for the Chicago Daily News (Oct. 19, 1925), said, "It is true he quarreled with Mae Murray, the star, all through the making of the picture, but Mae should thank her lucky stars for von Stroheim. He has stopped her disconcerting pouts and St.Vitus technique, tamed her down and taught her to take her time. The result is that Mae Murray is part of her picture now. . . She makes a real personage of the American chorus girl . . ."
This is a "backhanded" way to give a compliment for Murray's performance, although Sandburg seems to be giving von Stroheim all the credit, not Murray. Even biographer Thomas Quinn Curtiss (Von Stroheim, Farrar, Straus and Giroux, 1971), gave von Stroheim credit for Murray's portrayal. He said, "Von Stroheim tactfully tore away the artificiality of her screen pose and found that she could act, especially in comic and wistful scenes." The New York Times reviewer simply ignored her. While complimenting the performance of Gilbert, D'Arcy and Marshall, he made no mention of Murray's performance at all. However, Photoplay (May, 1927), gave "just due" to Murray, stating, "Hers, too, is a fine performance; well shaded, deftly drawn, and, above all, bewitching to the eye."
The fact of the matter is that "The Merry Widow" was one of the top money-makers and one of the most popular films of 1925, and, as one of the two principals in the picture, Mae Murray must be entitled to some of the credit, regardless of the implications that von Stroheim was some sort of "Svengali." In his book, An Evening's Entertainment, (University of California Press, 1990), Richard Koszarski gave a contemporary list of the most popular films of 1925 according to exhibitors' reports and other available figures from that period. "The Merry Widow' was tied for fifth with "The Phantom of the Opera." The top four were "The Big Parade," "The Gold Rush," "The Freshman," and "Don Q. Son of Zorro."
Surprisingly for a von Stroheim film, the actual production cost was reportedly about $275,000, although $500,000 (another source says $600,000) was charged against the film due to operetta rights, gowns ordered by Murray, accumulated salaries for the two stars before filming began, retakes by producer Irving Thalberg which were never used, etc. Nevertheless, the film grossed $4.5 million in its first two years. Obviously it was a hit, a much bigger hit than anything von Stroheim had done previously, and much credit must be given to the stars, Murray included.
William K. Everson, in his book, American Silent Film, (Oxford University Press, 1978), said "The Merry Widow" ". . . promised extravagant romantic escapism and had an unbeatable box office team in Mae Murray and John Gilbert."
Gilbert, in this pre-Garbo period when his star was on the rise, received lavish praise for his portrayal of Prince Danilo. "But best of all there is John Gilbert in a role that ought to make him the greatest of them all," said the Photoplay reviewer. "Gilbert is not only a Gift to the Girls, but he has qualities that redeem him for the men."
According to biographer Curtiss, von Stroheim wanted Norman Kerry for the role of Prince Danilo, but Thalberg wanted to use John Gilbert. Jane Ardmore, in her Mae Murray biography (The Self-Enchanted, McGraw-Hill Book Company, Inc., 1959), which was written with input from Murray, says it was the actress who pushed for Gilbert as Danilo, claiming both von Stroheim and Irving Thalberg had already agreed upon Kerry. Ardmore details a heated conversation between Murray and Thalberg with von Stroheim a mumbling, frustrated bystander. Finally, Murray challenged Thalberg, "Perhaps you should re-read my contract, Irving." A week later, Ardmore claims, Thalberg introduced Murray to the new "Prince Danilo," in the person of John Gilbert..
Von Stroheim co-authored the adaptation with Benjamin Glazer and originally wrote the role of Crown Prince Mirko for himself. However, Thalberg vetoed the idea. The director was forced to seek another actor for the role, but was well satisfied when he found Roy D'Arcy in a local stage production and hired him for the part. According to Curtiss, D'Arcy "studied in Germany and had observed the prewar German officer strutting in the streets. In uniform and a monocle, he resembled not so much von Stroheim himself as the effeminate Prussian commander of Maupassant's 'Mademoiselle Fifi.' This gave an interesting edge to the character, accentuating the spoilt-dandy quality of the cruel aristocrat."
D'Arcy, too, was praised for his role. "Both Mr. Gilbert and Roy D'Arcy as the two Princes, acquit themselves with distinction," said The New York Times reviewer, "especially Mr. D'Arcy, who is seen in the role of the Crown Prince. He perhaps makes it too patent that he is not accustomed to wearing a monocle, through his constant fingering of this bit of glass. But he has a leer, a wicked-looking open mouth filled with perfect teeth, and a nasty stoop to his shoulders. His is really a fine stretch of acting, a little exaggerated in spots . . ." Photoplay agreed, "Another magnificent performance is given by Roy d'Arcy."
The New York Times also gave praise to Tully Marshall's portrayal of Baron Sadoja, as well. ". . . we must mention the skillful performance rendered by Tully Marshall, who comes into his own in the part of the old roué who sought the hand of the fair Sally . . ."
So, it can be established that wise judgment was used in the selection of the principals for "The Merry Widow," but what about its director? It is a well-documented fact that he and Murray were at odds with one another throughout its production, but it's obviously a simple clash of two extreme egos rather than either one being right or wrong.
According to Curtiss, Murray fueled the fires of discontent before filming ever began. "In New York, Miss Murray, when questioned as to how her effervescent style would fare under the direction of the realist von Stroheim, replied that such a change would make little difference, she always directed herself, anyway. This was not a statement calculated to please von Stroheim."
Actually, von Stroheim also clashed with Gilbert early on in the filming. Reportedly, Gilbert walked off the set when the director criticized his "clumsy deportment" in a scene. According to Curtiss, it was Murray who saved the situation. She caught Gilbert as he was about to drive off and convinced him to return to his dressing room. Gilbert agreed only if von Stroheim apologized. Murray then pleaded with von Stroheim who did approach Gilbert in his dressing room. The two men mended the breach over a bottle of Scotch and a newly discovered mutual dislike of Louis B. Mayer. Curtiss said the two men got along well throughout the rest of the filming.
As for the differences between von Stroheim and Murray, Thalberg played mediator between the two ultra-egos, often calming the waters after a late-night phone call (Thalberg, although only twenty-six years old, suffered a heart attack during the filming of "The Merry Widow," but continued his work from a hospital bed). Tensions exploded most violently during the filming of the waltz scene with Murray shouting, "You Hun!" at von Stroheim. The director walked out and decided to take his problem to Louis B. Mayer. Instead of being sympathetic, Mayer decided to fire von Stroheim. When new director Monta Bell arrived on the set the next morning, the extras were up in arms, shouting that they wanted von Stroheim back (Curtiss says almost all of the extras were friends of von Stroheim's that he had, as a favor, recruited for the film). Mayer rushed to the set and quickly realized he had to rehire von Stroheim. The incident was deliciously embraced by the press.
The contribution of Murray, Gilbert and D'Arcy to the success of "The Merry Widow" can't be denied, regardless of von
Stroheim's direction. William K. Everson observed, "'The Merry Widow' showed that Stroheim could combine his own rather bizarre style with a commercial property, although the key in this case may have been the box office insurance of the two stars." It must also be added, though, that Everson considered the movie "a bore" in spite of being "a commercial success."
Richard Koszarski takes a tentative view of von Stroheim's work as a whole. "In terms of a body of work, this collection of footage (von Stroheim's nine films between 1919 and 1932), might hardly seem worth evaluating. . . In the 1976 Belgian Royal Film Archive poll, von Stroheim was still seen as being among the top ten most important American directors . . . His best-known film, ''Greed' (1924) . . . was cited in this poll as the third most important American film of all time. Clearly, such judgments are not being made on aesthetic grounds alone, and it is largely in terms of their symbolic value that von Stroheim and his films continue to hold such a position of prominence."
Fortunately for "The Merry Widow," von Stroheim's "bizarre" tastes were kept in check (Ardmore said Murray complained to Thalberg during the filming, "Degeneracy's what he's giving it. And you're letting him."). Everson said some "extravagant bordello scenes were cut, along with some wedding night exotica," but noted that "the basic structure of the film was left relatively intact." Reportedly, von Stroheim's desire to convey Baron Sadoja's foot fetish was toned down, as well, although the film still includes a series of shots of feet intercut with a leering Sadoja. The implication is obvious, but without overstating the fact. As Everson noted, "Nevertheless, 'The Merry Widow',' even after cutting, contained elements that were strong meat indeed, and Stroheim was not ashamed of the edited version as released."
It is unfortunate that the resulting work is not judged apart from the personalities of those involved. As a piece of entertainment, "The Merry Widow" succeeds, amply proven by its popularity at the time of release. It is not a "bore," as Everson claims and is capable of holding the viewer's attention throughout. D'Arcy is a perfectly disgusting antagonist, and Murray is charming and energetic, bringing to mind some of Gloria Swanson's attractiveness. Gilbert, as always, personifies the dashing, lady-killer military-type. Von Stroheim does, indeed deserve credit, too. The screenplay is superb, pulling us into the emotions of the characters as we feel anger at Mirko's behavior, sympathy when Danilo must decide between love and duty, and pity at the poor Sally left standing at the altar. There are moments of anxiousness, moments when we, too, feel release as Danilo chokes Mirko, repulsiveness as Sadoja approaches Sally on their wedding night, or even a little emptiness mixed with hopelessness when Danilo is shot. When a screenwriter/director can pull you into his make-believe world, emotions and all, the way von Stroheim does here, he has succeeded in his mission.
The photography is excellent with the duel scene one of the most realistic and beautifully photographed segments you'll ever see. The viewer may be surprised to learn that this scene was filmed at Griffith Park, and the rest of the movie was filmed in its entirety on the MGM stages.
The final coronation scene was filmed in Technicolor, although the version viewed here, which is from Turner Classic Movies, presents this scene in black and white. Nonetheless, the film is wonderfully acted, well scripted, ably directed and beautifully photographed. Kino's version also includes an excellent organ score.
Note: Also consulted was Thalberg: The Last Tycoon and the World of MGM (Crown Publishers, Inc., 1994), and excellent biography by Roland Flamini.
Copyright 2002 by Tim Lussier; all rights reserved.