Universal Pictures
directed by Tod Browning
Cast: Priscilla Dean (Molly "Silky Moll" Madden), Ralph Lewis ("Silent" Madden), Lon Chaney ("Black Mike" Sylva, Ah Wing), Wheeler Oakman ("Dapper Bill" Ballard), E. Allyn Warren (Chang Low), Stanley Goethals (the kid), Wilton Taylor (Inspector)
---
Synopsis
"Silent" Madden and his daughter, Molly ("Silky Moll") are slowly being reformed by the teachings of Chang Low in San Francisco's crime-ridden Chinatown. For some unknown reason, "Black Mike" Sylva hates them and arranges to have Madden framed for the shooting of a policeman. Although there is a lack of evidence, he still must spend several months in jail. Just as "Black Mike" planned, the unjustified incarceration of her father turns Molly against the law once again. This opens the door for "Black Mike" and "Dapper Bill" Ballard to convince her to join them in a jewelry heist at a fashionable mansion. The two men plan to have Bill escape with the jewels leaving Molly behind to be caught by the police. However, Bill has second thoughts and tells Molly of the doublecross. Molly convinces Bill that they should go ahead with the "trick." They successfully elude the police and "Black Mike" and go into hiding in an apartment in another part of San Francisco. After several months in hiding, and because of their association with a little boy across the hall, the two decide to return the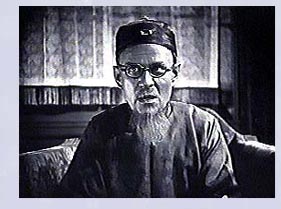 jewels and give up their life of crime. However, just as they are about to do so, "Black Mike" finds them.
Commentary
Photoplay's review of "Outside the Law" when it was re-released in 1926 called it ". . . an engrossing picture," and that seems to be the best way to describe it. It holds the viewer's interest through both the character development and the story line itself, an essential combination if a film is to succeed.
It's a fact that the film creates interest today mainly because of Lon Chaney's presence, although Priscilla Dean was the star and the name above the title when it was released in 1921. Upon viewing the film, it must be admitted that Chaney's is the outstanding performance. Yes, he plays a dual role as the gangster "Black Mike" Sylva and the Oriental Ah Wing, and, yes, his make-up and portrayal of Ah Wing are outstanding, but his portrayal of "Black Mike" is equally outstanding and the role that really makes the film.
Priscilla Dean was a veteran actress at the time and the queen of the Universal lot. She was definitely capable and talented and handled the role of Molly convincingly and with assurance. As a tough, high society crook, she is very believable. Her
changes in temperament from sincere, reformed citizen to angry, determined lawbreaker are handled without overacting and naturally. She does a particularly fine job of acting when "Black Mike" finds her and Bill in the apartment, and a fight breaks out followed by the intrusion of a detective who had been searching for them. One minute she is nervously hiding her concern at being caught by "Black Mike," and the next minute she is defiantly holding a gun on the detective while making arrangements with Bill to escape.
Wheeler Oakman (who was Dean's real-life husband) as Bill also gives a fine performance. No newcomer to the screen, Oakman had been in pictures since 1914. He was an excellent choice for the tough guy with a soft heart in "Outside the Law." Although he throws in the cliché mannerisms of a 1920's crook - the flicking of the thumb when referring to someone, the mouth twisted to one side when talking confidentially - it all seems appropriate and not at all as a caricature. Then, when the little boy from across the hall wins his heart, Oakman evokes sincerity in his love for the child and his desire to change. Oakman apparently played well with kids as this and his performance the next year as Jackie Coogan's buddy in "Peck's Bad Boy" proved.
Again, we plainly see that Chaney's performance as "Black Mike" Sylva stole the picture, and it's rightly so. "Black Mike" is the pivotal character in this story without whom the majority of the tension, suspense and apprehension would not exist. That's what makes this film so much fun. For example, when Bill and Molly are in hiding for months and months, we know the police and "Black Mike" are looking for them. However, the quest by the police almost gives way entirely to our apprehension about "Black Mike" finding them. When "Black Mike's" stoolie, "the Jackal," accidentally spots Bill going into his and Molly's apartment building, our apprehension level goes up dramatically because we know where "the Jackal" is going - straight to "Black Mike." One of the best moments in the film that makes our heart leap (and a credit to director Tod Browning) is the moment Bill and Molly open the door to their apartment to go back and return the jewels. The viewer's
guard is down for a moment as we believe everything's going to be OK because they two have finally reformed. However, when they open the door, there's "Black Mike" propped up against the door sill using a knife to clean his fingernails. He ambles into the apartment coolly and cockily shutting the door behind him - an excellent "seat-gripping" moment.
Chaney may be remembered today too much so as a master at make-up than the fine actor he was. No amount of skill at make-up would succeed if Chaney weren't such an accomplished actor. As "Black Mike," there is no unusual make-up, just a tough scowl for the threatening moments, a cocky, self-assured demeanor as he draws in his prey, and a frightening, almost monstrous visage as he does hand-to-hand battle with his opponent.
Biographer Michael Blake gave sufficient praise to Chaney's portrayal as Ah Wing, but he wanted to make sure the viewer was aware of Chaney's acting ability, as well. "As good as his ability at make-up was, the acting was what finally made his performance believable," he said in Lon Chaney: The Man Behind the Thousand Faces (Vestal Press, 1990). "One scene in the film has Black Mike (Lon) and his two henchmen plotting a crime while eating at a restaurant. As they get up to leave, the henchmen leave a tip, which Black Mike pockets. Little bits of business like this gave Chaney's characters life."
Chaney's portrayals sans make-up, such as those in "Outside the Law," (1921) "The Penalty," (1920) "The Unknown" (1927) or "Tell It To the Marines" (1926), can't be dismissed in favor of the heavy make-up roles and without question are high-water marks of silent screen acting.
The title writing is very appropriate for this type of film and the characters that are being portrayed. For example, when Bill tells Molly the jewel heist is a doublecross by "Black Mike," he says, "This trick's framed to railroad you," - well-suited
gangster slang, at least for our cinema expectations. In one instance, however, there's so much "lingo," it's a little difficult to follow. Bill tells Molly how "Black Mike" has planned her capture after the theft. "Now, the frame-up is this - I'm to slip you the small stuff - ditch you at the front door, and make my getaway through the garden, while the cops nab you at the machine."
Director Tod Browning deserves much credit for the quality of this film, too. The sets are realistic and carry a somber look that lends itself so well to the tone of the film. Characters are developed clearly and well and elicit sympathy, fear or hatred as the story line calls for. The only complaint may be the two big action scenes - a gun battle at the beginning when "Silent" Madden is framed and one at the end when "Black Mike" gets his final due. These are somewhat confusing and hard to follow, but no less exciting.
It is also natural to feel a little extra appreciation when viewing "Outside the Law" because, until the late 1970's, the film was thought to be lost. It was found in a barn in Minnesota having been left there in he 1920's by a traveling showman. Although there is some decomposition at various points - somewhat severe for several seconds in one portion - the film is in amazingly fine condition. There is apparently a portion missing when the cops break in during the final gun battle. We see them burst in the door, then, just as suddenly, Bill and Molly are standing, handcuffed, while Chang Low, "Silent" Madden and a couple of policemen are looking on. Although we lose a moment of continuity during one of the tensest moments of the film, we still can't help but feel how fortunate we are to have the film at all.
Also, "Outside the Law" is now available on DVD and features the orchestra score compiled by Blackhawk Films when originally released on super 8mm film in 1977. The score is excellent and even includes some well-done sound effects. The DVD is especially appealing to the collector because it offers a double-feature which also includes "Shadows" (1922), another of Chaney's fine Oriental portrayals.
copyright 2002 by Tim Lussier, all rights reserved

---
Return to "Outside the Law" page