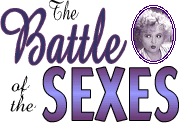 Comments on the DVD release of "Battle of the Sexes"
by David Shepard
"Battle of the Sexes" is among a large number of silent films which have been restored and brought to the home video market by Shepard through his Film Preservation Associates including the Chaplin films, the Buster Keaton series, the rare Valentino features "Cobra" and "The Married Virgin," "The Indian Tomb," "The Cat and the Canary," "The Affairs of Anatol," "The Marriage Circle," and much more.
THE BATTLE OF THE SEXES is a film I had wanted to prepare for video for a long time, because having produced video editions of about ten other Griffith features and six hours of Biograph shorts, I wanted to show that contrary to received opinion, he didn't become an incompetent after ISN'T LIFE WONDERFUL.
The film is still under copyright, and I had the necessary rights but no film. I am told the camera negative was destroyed in a lab fire some time prior to 1954 when Paul Killiam acquired the so-called "Jensen Group" of about two dozen Artcinema productions, of which this was one.
Two of the three known prints are in archives which make duplication of their materials almost impossible (in one instance) and completely impossible (in the other). The third print belonged to John Hampton of the Silent Movie Theater, and I was able to buy it at public auction when a portion of that collection was sold at Butterfield & Butterfield to settle the Estate of Lawrence Austin. As I recall it was part of a lot of about 15 films otherwise uninteresting to me. Bidding was spirited, and the price went quite high, although in my opinion it was well worthwhile. My original print was made in 1942 and now has vinegar syndrome, but the telecine quality was excellent.
Fortunately, Rodney Sauer agreed to score the film with the Mont Alto Motion Picture Orchestra. There were 1928 Vitaphone discs which I did not have, but as several original reviews commented on how bad the music was, I didn't mind. Mont Alto did use the love theme which was original for the picture. After the DVD appeared, the completely impossible archive announced plans to make a preservation negative from its print, which means, of course, that the film will be saved for the eventual benefit of the public.

---
You can purchase this DVD from

Return to "The Battle of the Sexes" page