SYNOPSIS/COMMENTARY
by Jonathan Pettit
Triangle Film Corporation
Cast: Olive Thomas (Nancy), Ann Korman (Sadie, Nancy's sister), Dolly Dare (Jane, Nancy's sister), Walter Perry (their father), William V. Mong (Jonathan Twist), Harvey Clark (Lord Cleveland), Louis Durham (Shorty Dorgan), Joe King (Jim Garside)
---
Some films are important because they are great works of art. Some films take on a greater significance because of their place in history. Some films are interesting only because of what they represent. The 1919 Triangle film "Love's Prisoner" falls into the final category.
Love's Prisoner is the only widely available film of silent motion picture actress Olive Thomas.
Though some of her other films still exist in archives and private hands, this film is the only opportunity that most of us will ever have to see the work of someone who was described as "the most beautiful girl in the world". This fact distinguishes what is a rather unremarkable film.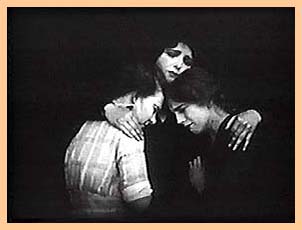 The Story
Olive Thomas appears as Nancy, the eldest daughter of a man with a criminal past who is arrested under dubious circumstances. Nancy and her two sisters move in with an elderly family friend while Nancy takes a position as a salesgirl. She then meets and marries a gentleman of means who dies suddenly. Nancy is left with nothing but her name and a large house but no means of support. At the same time, the city is besieged by an elusive Robin Hood character known as "the Bird." In the course of the investigation, Nancy and the assigned police detective begin to fall in love unaware that Nancy is "the Bird," and her elderly friend is her accomplice. Nancy is arrested as her accomplice passes away. She is convicted, but upon her release, she is met by the detective who arrested her and who has also waited for her all this time.
A Company in Trouble
The present release is missing the final reel. That has deteriorated over time like so many other films. The fact that anything survived is a stroke of luck. Nothing was expected of "Love's Prisoner." It was a simple "programmer" that produced just enough money to keep Triangle going until the next week. Triangle, which was organized to bring the efforts of D.W. Griffith, Thomas Ince, and Mack Sennett into one distribution network was a shell of its former self. While Olive Thomas originally tested with Griffith, and Ince produced her first effort at Triangle, all the great creative artists were gone, and the company's survival fell upon the shoulders of the three remaining leading players: Olive Thomas, Alma Rubins, and Taylor Holmes. H.O. Davis gambled on these players' popularity and developed a schedule of inexpensive "programmers" with each lead releasing a film a month. It was enough to keep the company going, but H. O. Davis was released after a dispute
with Triangle executives. The company would collapse in a matter of weeks, and "Love's Prisoner" would not be released for more than a year after its completion as the creditors attempted to take advantage of Thomas' increased popularity with Selznick/Select.
Personal Troubles
Thomas was having her own difficulties at the time, though she may not have realized it. Olive Thomas and Jack Pickford had only recently announced they had "secretly" married. Soon after that, Pickford enlisted in the Naval Reserve as part of the war effort. Though he was not sent overseas, the separation was difficult on Thomas. She would make movies in California while Pickford was stationed in New York to protect its harbor. The separation would become more difficult when Pickford was arrested as part of a draft scandal where positions in the Naval Reserve were sold for thousands of dollars to those who did not want to serve in the trenches of France. Pickford would avoid jail by turning state's evidence through the efforts of his mother and sister. However, he would receive a dishonorable discharge. The recriminations of this incident would help to shatter the marriage and contribute to Thomas' mysterious death in 1920.
"Love's Prisoner" is an important film because of what it represents . . . broken hearts and broken dreams.
All contents copyright 2001 by Jonathan Pettit, all rights reserved.
---
SYNOPSIS/COMMENTARY - SCENES FROM THE MOVIE - OLIVE THOMAS MAGAZINE COVER
VINTAGE MAGAZINE AD - OLIVE THOMAS PHOTO GALLERY - "THE MYSTERIOUS DEATH OF OLIVE THOMAS"


---
RETURN TO "LOVE'S PRISONER" PAGE