First National Pictures
directed by William A. Seiter
Released March 12 1929 with synchronized music score and sound effects
Cast: Colleen Moore (Pert Kelly), Neil Hamilton (Winthrop Peabody, Jr.), Bodil Rosing (Ma Kelly), John Sainpolis (Pa Kelly), Edward Martindel (Winthrop Peabody, Sr.), Eddie Clayton (Tom), Lincoln Stedman (Jerry), Louis Natheaux (Jimmy), Collette Merton (Julie), Dixie Gay (Susie)
Commentary
"Sure I'm good, Mom - but I have an awful time hiding it. I'd be disgraced if it were ever found out!" Pert's assurance to her Mom pretty well sums up Colleen Moore's role in "Why Be Good?" She's popular, she wins dance contests, she stays out late having a good time with her friends, and she even may take a little drink once in awhile, the epitome of the 1920's flapper - but despite what others may surmise from her "joie de vivre," she remains a "good girl."
Silent fans are fortunate to have this film available today from Warner Archives (wbshop.com) since it was considered lost for many decades and finally discovered in an Italian archives in the 1990's. What a shame the film didn't surface during Colleen Moore's lifetime (she passed away in 1988) so she could see it again, although she makes no mention of it in her autobiography (Silent Star Colleen Moore Talks About Her Hollywood - Doubleday & Company, Inc., 1968). In later life she was, however, trying to locate a copy of the lost "Flaming Youth" (1923), her most iconic film. She had called a collector friend of mine in the late 1970's (he had no idea how she got his name or telephone number) asking if he had any leads on the film, which, of course, he did not. Another shame she didn't get to see that film again - or
that we are able to see it today!!
"The energy in this movie has plenty of 'ooomph'"
"Why Be Good?" is Moore's last silent film, and, although it may lack some "oomph" in the story line, the energy in this movie has plenty of "oomph!" Moore is Pert Kelly, a working girl (sales clerk in a large department store), who likes to go out in the evenings and have a good time. However, as noted in the opening paragraph of this commentary, this "good time girl" is, in spite of what appearances may imply, is a "good girl!"
When we first meet Pert, she has just won the dance contest at a popular night club among the less privileged of society, the Jazzland Night Club (and she does one of the fastest and wildest dances ever to hit the screen!) and continues to win the envy and admiration of her friends. She also doesn't miss the notice of the mustached, Brilliantined Jimmy Alexander, a hotshot among the working girls. They leave the Jazzland together for a newer place, the Boiler Room. Pert is not above a little kiss or two, but she does have her limits on necking and drinking. For example, she doesn't mind sharing a few sips of beer from her dance trophy cup, but when Jimmy brings out the flask, she places her thumb over the opening as she pretends to drink from it.
The movie actually opened with a jazzy party taking place in the swanky apartment of Winthrop Peabody Jr., the wealthy son of a large department store owner. However, after the party breaks up, Winthrop and his two buddies, Tom and Jerry, decide to go check out the new Boiler Room Night Club. Although Pert is dancing with Jimmy, when Winthrop and his buddies walk in the door, she can't take her eyes off him - and he also can't take his eyes off her as he walks to his table. Moore is delightful in this scene as she smiles invitingly at Hamilton, and is at once flirtatious and sexy. Later, she pretends the need to go to the "powder room" when Jimmy's advances get a little too familiar, and uses the opportunity to flirt with Winthrop from a distance again.
Neal Hamilton and Colleen Moore click
Neil Hamilton, who never reached superstar status, clicks with Moore in their scenes together. After a little teasing banter, they slide into a booth together, slink down below the high topped seat so no one can see them, and obviously enjoy the conversation and closeness. Winthrop is a bit surprised, though, when Pert tells him, "I think I'd better close the deal with a cash deposit," and quickly kisses him. Surprised, but pleased, he does the same, and the relationship begins. Pert tells him he can drive her home since her date, Jimmy, has passed out.
With the somewhat inebriated Tom and Jerry in the back seat, Winthrop takes her home and walks her to the door. She pulls him inside. They say "good night" several times - way more than necessary, making it obvious neither wants to part company - so they finally decide to take a seat on the stairs and continue talking - and kissing! This lasts until Tom and Jerry begin honking the horn and wake up
her parents. When Dad hits the top of the stairs, Winthrop hits the front door!
The next day is Winthrop's first day on his new job - as personnel manager of his father's department store where 200 men and 1,000 girls are employed. He, of course, does not know that Pert is a salesgirl there - but finds out quickly when she is sent to his office for being late to work. Both are pleased at the coincidence, and Pert asks if their date is still on for that evening. But before the conversation goes any further, Winthrop's father walks in. So, to impress his father, Winthrop gives Pert a good tongue-lashing telling her she'll be fired if she's late again. When she leaves, Winthrop's father tells him he shouldn't be so harsh. Feeling guilty, Winthrop confesses that he had been the one who kept her out late and brushes off the tongue-lashing as "a stupid game" between them. Of course, Pert doesn't know it is a game, especially when she gets her notice that she's been fired a little later. Instead, she feels Winthrop has turned on her. What Winthop nor Pert realize is that Winthrop's father arranged the firing.
Bodil Rosing may not be a familiar name to silent movie fans, but she is perfect as Pert's caring and understanding mother - playing counterpoint to the father (John Sainpolis) who feels his daughter is "headed straight for perdition" (his words). The night she and Winthrop are caught on the stairs obviously brings about her father's wrath telling her, "No decent girl would wear a dress like that!" to which she replies, "Well, I'm wearing it -- and I'm decent!" When Pert goes to her room, Mom follows and consoles her, "Pert - don't mind what Pop says - I know that you're a good girl." The next evening she comes in about 2 a.m., once again fending off her father's ire. In her room, she tells her Mom, "Oh! Mom! Everything's all right. He didn't fire me. He even offered me money - to prove it -- hundreds of dollars." However, what Pert sees as a noble gesture raises concern from her Mom. "Did he - has he - said anything about - wanting to marry you?" Of course Pert says, "no." Her Mom takes her hand. "Is - everything - all right, Pert?" "Do you no longer trust me?" Pert asks. Pausing a moment, her Mom reflects, "-- Wonder if a rich fellow like that might have the right idea about - a working Girl --"
And while Pert's Mom is raising some doubts in her mind, Winthrop's father is raising some doubts in his mind, as well. When Winthrop says he plans to marry Pert, his Dad tells him, "Son, I don't hold for caste distinction - it's as right for you to marry a girl who works for a living - as anyone else - From what you've seen of her, do you believe she's - a - good girl?" Then he adds, "I'm only trying to save you from a life of suspicions - and doubt - and unhappiness." As one may suspect, the doubts are a perfectly formula for a clash between the two lovers.
One of the best portrayals of the Jazz Age flapper
"Why Be Good?" is one of the best (if not the best) portrayals of the Jazz Age flapper on film and pretty much a "last gasp" for this type of film, too, since the Stock Market crash and the Depression were just around the corner when this was released in March 1929. The Vitaphone soundtrack adds much to Jazz Age flavor, too - not only because it's a top-notch, upbeat and rousing score - but it's almost necessary when we get to the night club scenes and see the bands with more moves than the dancers on the floor! Exhibitor's Herald World said the Vitaphoine soundtrack was the biggest star of the film. (1) The Warner Brothers trade ad said, "The wonderful Vitaphone jazz score will have them fox-trotting in the aisles!" (2) Without a doubt, this score is a cut above most other Vitaphone scores that have surfaced on disc over the years.
Still, the star of the film is Colleen Moore, and she does not disappoint. Most silent movie fans have seen Moore's perkiness in films such as "Ella Cinders" (1926), "Twinkletoes" (1926), and "Orchids and Ermine" (1927), among others. However, "Why Be Good?" gives us a Moore performance unlike that in any of her other films. She's all but bouncing off the walls, and even the exhuberant Clara Bow was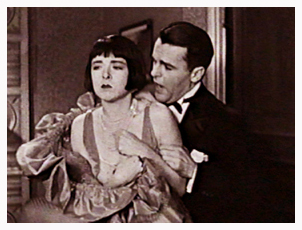 never as spirited as this! She's cute, self-assured, flirtatious, and quick with a snappy phrase. We mentioned how much the Vitaphone soundtrack adds to the Jazz Age flavor - well, Paul Perez's title writing also puts over the carefree flapper flavor in spades! For example, when Pert sees Jimmy for the first time, she asks her girlfriends, "Who's that greasy spoiled brat?", to which one responds, "That's Jimmy Alexander! The big wheel himself! He draws five tomatoes a week, And he cracks wine at roadhouses for his mamas!" When Jimmy sits down at their table, he asks Pert, "Are you really that way, or do you just dance hot?" With a sassy air of confidence, Pert says, "Listen, Big Boy, I'm a three alarm fire - look out you don't get singed!"
Viewers will likely be surprised that Pert is receptive to Jimmy's advances. After all, his appearance is the stereotypical silent movie villain with the Boston Blackie mustache, sideburns and greased-back hair. Pert, as we will learn, though, is only interested in a good time - not Jimmy - and she doesn't mind a little mild "petting" as long as the guy shows her a good time. Jimmy, of course, is no villain in this film. We actually come to like him in spite of being egotistical - not arrogant - and just a guy who's out to impress the girls. An amusing scene on the porch of the night club shows us Jimmy's harmless character and Pert's ability to remain a "good girl" without coming across as a prude. After a little snappy verbal interchange between the two, Jimmy leaps forward and wraps his arms around Pert until all we can see of her is both hands in the air with fingers flying outward. Suddenly she pushes Jimmy away. Lying back in the chair where he fell, he says very matter-of-factly, "Too fast for you, huh, Mama?" And Pert, breathing heavily spurts, "For the love of Lil! Can't I breathe?" Delightful!
The cast is perfect!
By the way, Variety praised Natheaux's portrayal of Jimmy noting, "Louis Natheaux, through his playing of an unsympathetic and typical dance hall lizard, should have the featured male billing that is now allotted to Neil Hamilton." (3) We have to agree with the reviewer on this one. Natheaux does a superb job and is one of the reasons this film is so enjoyable.
Actually, all of the cast are a perfect fit for their roles - John Sainpolis as the father, Bodil Rosing as the mother, Eddie Clayton and Lincoln Stedman as Tom and Jerry (see their funny scene when they try to pick up a couple of girls, and the two behemoth boyfriends return!), and Edward Martindel as the elder Peabody. Even Collette Merton and Dixie Gay are perfect in their short roles as Pert's cute and sassy girlfriends.
Reviews at the time weren't very kind to the film. For example, Variety said, "Story of poor but pure department store girl who falls for the wealthy boss' son, and vice versa. Usual complications and windup. Without Colleen Moore and an average Moore performance, films rates slight attention. No dialog, and that's against it from any possible exploitation." (4) However, the film did do respectable business, surely as a result of Moore's lively performance, the snappy score, and possibly, too, the risque nature of some of the film (Moore does appear teasingly in underclothes a couple of times as she undresses for the night in her room).
It's not a film whose story would take away any Academy Awards, but the cast is excellent, and for sheer fun and liveliness, it can't be beat. Thanks to Warner Brothers, UCLA Film and Television Archive, Joe Yranski, Ron Hutchinson, The Vitaphone Project and any others who played a role in bringing this film to DVD for Colleen Moore and silent movie fans! (For more on the discovery and restoration of this film, see Ron Hutchinson's article "Lost No More: The Re-discovery and Restoration of 'Why Be Good?' and 'Synthetic Sin'.")
References:
1. "Why Be Good?" review. Exhibitor's Herald World. January 26, 1929.
2. "Mary Mallory/Hollywood Heights: 'Why Be Good?' Celebrates the Jazz Age." The Daily Mirror. September 9, 2014.
3. "Why Be Good?" review. Variety. May 8, 1929.
4. Ibid.
copyright 2015 by Tim Lussier. All rights reserved.
---