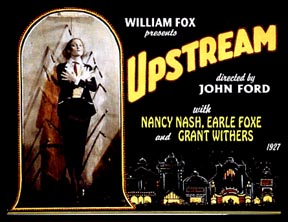 Produced and distributed by Fox Film Corporation
Directed by John Ford
Released December 30, 1927
Cast: Nancy Nash (Gertie Ryan), Earle Foxe (Eric Brashingham), Grant Withers (John Rogers, The Knife Thrower), Lydia Yeamans Titus (Ma, the Landlady), Raymond Hitchcock (Star Boarder), Emile Chautard (Campbell-Mandare), Ted McNamara and Sammy Cohen (Callahan and Callhan), Jane Winton (The Soubrette), Lillian Worth and Judy King (The Sister Team), Harry Bailey (Gus Hoffman, the theatrical manager), Ely Reynolds (Deerfoot), and Franci s Ford (The Juggler)
Another one found!
With the sad fact that as many as 80 or 90 percent of the silent films that were made my not be in existence today, one can only shout "Hurrah!" at the discovery of one that has lain dormant for 86 years. And that's the case with John Ford's "Upstream" (1927). Not that it's a great film - it isn't, although it is from one of the great directors. However, it's another document of that glorious time when films portrayed a bit more innocence than they do today and the lost art of pantomimic storytelling was at its height.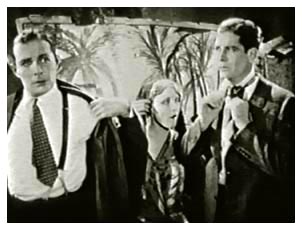 Image Entertainment's "Lost and Found: American Treasures from the New Zealand Archive" has received quite a bit of press and is the first offering of a large number of silent films recently discovered in the New Zealand Archive. "Upstream" is the only complete feature on this first set, and, at 60 minutes, is thankfully missing only a few minutes of running time (Variety's review listed it at 5,510 feet with a running time between 64 and 78 minutes). The story, however, is unmarred by whatever minutes may be missing as the story is complete for the viewer and highly enjoyable.
"Upstream" is somewhat of an anomaly for John Ford if one considers his other silent films of which we are most familiar - "The Iron Horse" (1924), " Lightnin'" (1925), "The Shamrock Handicap" (1926), "3 Bad Men" (1926), "Mother Machree" (1928) or "Four Sons" (1928), among others. This simple backstage story seems a little beneath his talents, yet his direction is right on target, as one would expect, with logical story progression, appropriate and believable sets, effective use of the camera, and vivid characterizations.
Characterizations are the movie's strongest point
Actually, the characterizations are the strongest aspect of the movie. The Variety reviewer was right on target when he said, "No outstanding star in the lineup, but the cast as a whole makes up for that." (1) We have Earle Foxe as Eric Brashingham who is a ham actor who happens to be of a famous stage family `a la Barrymore, yet has done nothing to live up to the family name. Grant Withers and Nancy Nash form the two other points of a love triangle, a knife thrower with an exotic Latin stage name - real name John Rogers from Iowa - and she (Gertie Ryan) as his assistant. However, Gertie's in love with Brashingham, John is in love with her, and John, as one would expect, can't stand Brashingham. The menagerie of show business aspirants in the boarding house include an old, washed up Shakespearean actor, Campbell-Mandare; the star boarder who is an elderly gentleman expending more hot air than talent; the vaudeville dancing and singing team of Callahan and Callahan; a sister act; and the flirtatious soubrette. The well-respected Lydia Yeamans Titus whose stage days date back to the 1800's plays the boarding house landlady whom everyone calls "Ma."
Within the individual stories of each of these characters, our story, as noted, concerns the love triangle of Brashingham, Gertie and John - with John persistent in his attempts to sway Gertie's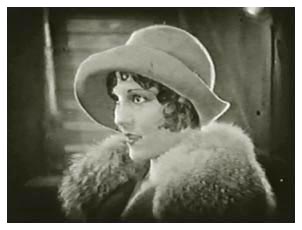 affections away from Brashingham toward himself. The hammy and egotistical Brashingham, though, appeals more to Gertie, but she soon learns the apple of her eye is rather rotten - for one day - to everyone's surprise - a theatrical manager walks into the boarding house and asks for Brashingham. He notes that he needs an actor to portray Hamlet in London, and, solely on the basis of his famous family name, Brashingham is the actor he wants - acting ability is secondary. Gertie believes Brashingham is going to take her with him, but she soon learns he has no such intentions, even borrowing $50 from her to make his trip. Months pass, and he makes no attempt to contact her, thereby weakening resistance to John's overtures. We are shown Brashingham, though, who, thanks to Campbell-Mandare's coaching before he left, actually do well and become a star of the stage in England. However, his arrogance, egotism and pomposity as a result are greatly enlarged.
Back home, Gertie finally realizes that Brashingham never cared for her and succumbs to John's proposal of marriage. In the meantime, Brashingham is convinced by his manager to return to the boarding house for a publicity opportunity with the newsreel cameramen. It just so happens, though, that Brashingham arrives on John and Gertie's wedding day.
Nash, Foxe, Withers do well
As can be seen, this is not the strongest of stories, yet it is a pleasant 60-minute diversion. Nash is a beautiful actress and does a commendable job in this film appearing very demure, vulnerable, and sympathetic. Her acting is expressive, yet natural, and it's a shame that her career appears to consist of only seven films. Withers is a dashing leading man, youthful in appearance, but perfect for the love-struck young man who refuses to give up on the object of his affections. Earle Foxe may deserve the acting honors in this film, because as the egotistical Brashingham, he evokes our disdain, yet, at the same time, a sense of humor in his self-aggrandizement. At the end of the film, he is thrown out of the boarding house, rolling down the steps onto the sidewalk - all the while with cameras turning. He very grandly picks himself up, brushes himself off, puts his pipe in his mouth and gives the cameras a profile shot - first one side, then the other. Kudos to Foxe who apparently approaches the role with a tongue-in-cheek attitude, making it fun rather than an over-the-top performance.
In 1927, Raymond Hitchcock was a respected former stage actor - and his appearance in the film adds to it immensely. He is the stereotypical bag of wind who spends most of his time pouring compliments on the landlady to avoid paying his rent. Emile Chautard is Campbell-Mandare who reveres the art of acting with a religious fervor, and is therefore disgusted when Brashingham returns with his pomposity. Chautard was 63 years old when he appeared in "Upstream," having begun his movie directing days in 1910.
The most humor comes from Sammy Cohen and Ted McNamara who appeared together in "What Price Glory. Cohen, with his long beak and McNamara with a face that can squint and twist with the best contortionist, make a perfect comical duo. The short bit of dancing they do isn't half bad, either. Jane Winton is one those underrated stars who worked steadily in the silent era and
appeared in a large number of films, but never seemed to get that plum role. She is very attractive and sexy as the flirtatious soubrette, an effective contrast to the innocence of Nash's character. Judy King and Lillian Worth as the sister act have little to do except provide background.
Resolution could be better
As noted, the strength of the film lies in its characterizations, not in the story. One is left at the end feeling that poor John was a second choice for Gertie after she realized she couldn't have Brashingham. When Brashingham returns to the boarding house after his great success, John does walk in on Brashingham and Gertie in an embrace (this is after the wedding), however, it appears he is forcing his attentions on her rather than a mutual situation - the best we can tell from the two-second shot. Could it be there is something of the missing minutes here? If doesn't appear so from the flow of the film, but we'd like to have a resolution at the end where Gertie's affections seem less frivolous and John less of a consolation prize.
Maybe "Upstream" would be more a part of our consciousness today if it had seen the light of day over the years because it did receive favorable reviews. Variety said, " . . . it is a good story, and it makes a good picture, one that's strong enough for any of the Broadway houses." (2) Harrison's Reports gave good reviews to all of the actors noting that is was "excellently produced" and "skillfully directed" by Ford. Photoplay said it was "an enjoyable story" adding, "You'll like it." (4)
Score makes the film come to life
Donald Sosin's score for the film fits the light-hearted camaraderie of the atmosphere in the boarding house, almost with a vaudeville flavor. He and three other musicians recorded the score, and it certainly makes the film come to life. Read his comments on the development of the music for "Upstream" here.
All in all, "Upstream" has a lot going for it - a very worthy addition to any silent film library.
Resources
1. "Upstream" review. Variety - February 2, 1927
2. Ibid.
3. "Upstream" review. Harrison's Reports - February 5, 1927
4. "Upstream" review. Photoplay - April 1927.

Copyright 2013 by Tim Lussier. All rights reserved