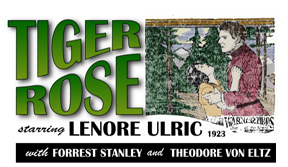 Warner Brothers
Directed by Sidney Franklin
Released December 3, 1923
Cast: Lenore Ulric (Rose Bocion), Forrest Stanley (Michael Devlin), George Beranger (Pierre) Sam De Grasse (Dr. Cusick), Theodore Von Eltz (Bruce Norton), Claude Gillingwater (Hector Mac Collins), Joseph J. Dowling (Father Thibault)

What's there to recommend this film?
"Tiger Rose" is rather a special film. The star, Lenore Ulric, only made five shorts and six features prior to this film, the last one way back in 1917. She left films under the tutelage of David Belasco and became a major Broadway star during the late teens and twenties. When she made "Tiger Rose" in 1923, she had been absent from films for over six years. And, once she completed this film, she didn't return to movie-making until 1929 when she appeared in her first talkie. "Tiger Rose" catches her at the height of her popularity, a still cunning 27 years old, and her only silent film between 1917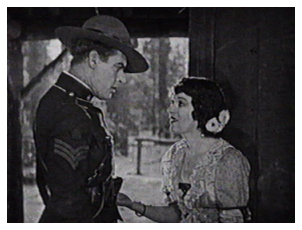 and the end of the silent era.
The film is well-made, too. Warner Brothers provided some stunning photography for the location shooting - majestic, snow capped mountains in the background and tall pines framing rocky mountain streams. The story takes place in the Canadian Northwest, and, whether the shooting was in Canada or some other suitable location, it works well.
The cast is commendable, too. Names such as Forrest Stanley, George Beranger, Sam De Grasse, Theodore Von Eltz and Claude Gillingwater were well-known, and their presence ensures quality support for Ulric - especially under the very capable hands of director Sidney Franklin.
The story
"Tiger Rose" is certainly a melodrama, and, unfortunately, we can't say that it offers anything unique; however, it does appeal, holds one's interest, and, at only 60 minutes, doesn't lag. After Rose's father dies, she is found floating down a river, unconscious, on a raft toward the waterfall. Canadian Mountie Michael Devlin spies her and jumps into the cold water from a cliff to rescue her. She is taken in by the kindly Hector Mac Collins and receives regular visits from the admiring Devlin. However, she discovers and falls in love with a surveyor for the Canadian Northwest Railroad, Bruce Norton. They pledge their love for one another when Norton has to go away, but what Rose does not know is that Norton is searching for the man who "lured" his sister away from her husband and then "deserted her." Norton does happen upon the man, and, in a fight, accidentally shoots him but escapes into the woods. Devlin is leading the hunt for the killer, but when Rose and Dr. Cusick find Norton hiding in Mac Collins' basement one rainy night, they plan to help him escape. Norton soon learns that Cusick was his sister's husband - too young at the time of her death to have remembered Cusick. The rest of the film is a desperate race to get Norton to safety as Devlin and his men close in - a race that doesn't work out as planned.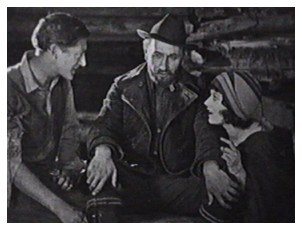 Done right and done well
Director Franklin provides just the right mix of pace and tension for almost half the film's length, for, at the point Dr. Cusick and Rose discover Norton in the basement, we are constantly teased by Devlin's near-misses in capturing his prey. Devlin is a guest in Mac Collins' house during this time, and he, Mac Collins and members of the search party are actually sitting down to a meal when gunshots are heard outside. When they rush outside to see what's happening, this is when Rose finds Norton in the basement. As the evening turns into a stormy night, Devlin (good acting by Stanley) is alert to any and all sounds. At one point, he goes out into the rain, gun in hand, searching. Rose and Cusick get Norton out through a trap door in the living room just in time for Devlin is entering the doors leading down into the basement from outside. They hide him in a grandfather clock. Devlin comes up through the trap door looking suspiciously around. Rose is hiding under the stairs as Devlin eyes the clock. He goes up to it, studies the face of the clock and suddenly --- a crash through a window in the next room. He runs to find a tree limb has broken the glass in the storm. Rose rushes to get Norton out of the clock and into the basement. She is standing at the open trap door when Devlin walks back in. It seems she is found out - however, she keeps her cool and tells him she heard a noise and came in to find the trap door open. Of course, Devlin tells her it was he who left the door open.
They need to get Norton out to a cabin about three miles away where there's a canoe and food for his escape. Cusick runs outside, fires shots into the woods, and when Devlin and the other men arrive, he claims he saw Norton. Of course, Rose and Norton take off in the other direction. Later, Cusick is able to meet them at the cabin. Unfortunately, the skillful Devlin discovers them. Yes, you'll have to see the film to learn how it all turns out!
We mentioned there was nothing unique here in the way of a storyline, and there isn't. However, sometimes the tried and true, when done well and played by actors who bring the characters to life, is much better than something different and unique that doesn't have anything to commend itself other than it's different. Most silent movie fans probably know the name of Lenore Ulric but have never seen one of her films. She's a very good actress, and it's easy to see why she was a Broadway hit. She's attractive - not a great beauty - but then that suits the role of Tiger Rose. The viewer may find the acting a little overly expressive at some points, but then at other moments she's low key and right on target eliciting just the right emotion from the viewer.
We always like Sam De Grasse, and he was typically one of the best bad guys in the movies, but he's a good guy in this one and plays the part well.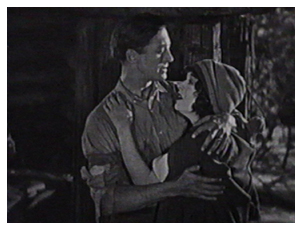 Theodore Von Eltz never became a major star, and although he's the leading "handsome" man in this film, he seems to just barely fall short of our view of the leading man type. Stanley does a fine job in this film with Franklin thankfully allowing him to be a real man, a threat to Norton, and good at what he does. He, too, is in love with Rose, but has to give her up in the end. The scene where she calls him over to give him a goodbye kiss on the cheek is effective. Gillingwater doesn't play his usual crotchety old guy in this one, and we enjoy seeing him and the kindly old factor who treats Rose so well.
Mixed reviews
Photoplay admitted that it was "not an unusual plot," yet commended it as "entertainment of the best sort." (1) Harrison's Reports liked it, too, noting, "A pretty good picture. The first part of the picture is slow, but once it gets under way, it arouses a good interest and holds it. . . 'Tiger Rose' should please pretty well." (2) Variety noted that its opening night in New York was well attended, but the second night was far from a capacity crowd. Apparently Variety felt Lenore Ulric was the draw, not the picture, noting that outside of Ulric's presence, " . . . it is just another Northwest mounted . . ." (3). Motion Picture Classic said, "It is well done - in fact, expertly done - but it fails to reveal anything of consequence that has not been revealed before in stories of its type." (4)
Grapevine's DVD release
Most of Grapevine Video's new releases these days have original organ scores by David Knudtson which make the films so much more enjoyable - which is true of this release, as well. It's a very good print with original opening titles and intertititles which are attractive. The American Film Institutes Catalog lists it at eight reels, so the 60 minutes runtime we have for the Grapevine release would indicate two reels are missing. If so, a superb editing job has been done at some point, and we're not sure where two extra reels would have improved the story. Maybe there was a prelude or flashback regarding the wrong done to Norton's sister???
For whatever faults the film may have, there are too many positives to dismiss this one and not see it. If you've never seen Lenore Ulric in a movie before, you'll become a fan after this one - and you won't be disappointed in the entertainment you were provided for approximately 60 minutes.
References
1. "Tiger Rose" review. Photoplay. February 1924.
2. "Tiger Rose" review. Harrison's Reports. December 15, 1923.
3. "Tiger Rose" review. Variety. December 6, 1923.
4. "Tiger Rose" review. Motion Picture Classic. March 1924.

Copyright 2015 by Tim Lussier. All rights reserved
Return to the "Tiger Rose" page