Commentary
Although it is certainly not a great movie, "The Speed Spook" is pleasant entertainment with a decent story line, well-played characters, and a good gimmick to hold the viewer's attention.
The gimmick is a driverless car, which is not faked but very real and aptly handled in the photoplay. To see this speedster cavorting about on these rural, dirt roads of 1924, skidding and sliding around corners and accelerating at a fast pace down the straight-a-ways is exciting for the car enthusiast.
Because these early speedsters had such long hoods on them, it is fairly easy to see how it was possible to place the engine at the very front and still have room under the hood for a driver right behind the engine and immediately in front of the regular driver's seat and steering wheel. However, the hood above Hines' head was raised slightly higher than the hood covering the engine, thus giving him a space of maybe three or four inches to see out of ­ all very ingenious. And the car does look rather spooky speeding through the streets with no one behind the steering wheel!
The story line is a little hokey and predictable, but enjoyable nonetheless. Every legitimate story must have one or more conflicts that must be resolved by story's end. "The Speed Spook" has several. We have Betty's failing car dealership (or "agency" as it is called in the film) and how to improve it. We have Judd Skerritt, owner of a rival car dealership who is attempting to drive away all of Betty's business with a little help from Hiram Smith. Then we have Hiram unscrupulously trying to defeat Sheriff West (Betty's father) in the upcoming election. "Blue Streak" (Hines) and Judd are competing for Betty's favors. (Oddly enough in films such as this the heroine is obviously devoted to the hero, yet she will still allow the villain to come courting and be very gracious to him ­ go figure!), Villainy comes in the form of Judd's illegal printing of fake ballots to assure Hiram's victory in the election, and, of course, a few thrills are added by the townsfolks' attempts to catch "The Speed Spook." However, because of the blending of these conflicts, the story moves along briskly and does not bore the viewer.
The comedic elements in "The Speed Spook" are rather tame and include some obvious slapstick. For example, "Blue Streak" steps out of the car to go to Betty and falls flat on his face. In another instance, Judd puts itching powder all over the cushions where "Blue Streak" is sitting on Betty's porch, bringing about some humorous facial and body contortions from "Blue Streak." At a bathing (pool) party given by Hiram Smith, there is plenty of falling into the pool, mainly because of a young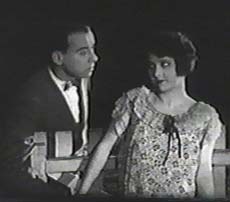 boy hidden in a tree with an air rifle, and, of course, the obligatory fat lady in one sequence.
The titles offer some humorous touches to the film, although some of them try a little too hard to elicit a laugh. In referring to Judd, "Blue Streak" comments, "Nice fellow- he'd be deaf and dumb if he were deaf." One of the cutest moments has "Blue Streak" and Betty shyly courting by the front gate and he asks, "What would you say if I kissed you on the forehead." She answers, "I'd call you down."
"The Speed Spook" can't be entirely discounted as an action film, either. The already mentioned shenanigans with the driverless car offer some thrills, but the sequence in the old brick arsenal is worthy of being labeled "action" material, as well. The fight between "Blue Streak" and Judd is well-staged with Judd making a fairly menacing villain. We tend to sit up an take notice too when "Blue Streak" cranks up a tank and drives it through the brick wall and over some rough terrain while plowing down several trees along the way. "Blue Streak's" capture of Judd in the final reel by dropping into his passing car from a tree limb is pretty exciting stuff, too.
Johnny Hines was a fairly successful comedian during the twenties and was certainly the most popular star associated with "racing" films since Wallace Reid's death in 1923 - and Hines really was an automobile enthusiast, too. One of his older brothers, Phil, was a race car driver who was eventually killed in a racing accident. During the height of his fame, Hines was able to meet many of the popular racers of the time and had the opportunity to drive their cars around the track. In July, 1928, he had a smash-up in his own car, but seemed unflustered by the whole incident having his picture taken next to the wrecked vehicle.
A young 22-year old reporter for Photoplay interviewed Hines in 1925 and was impressed to be taken for a drive by the star. "He drives a very sporty Locomobile," she said. "You know, the kind you would like everybody you ever met to see you in. And I am not different than you are. But the sad part of it is ­ I don't think a soul saw me."
Although a hard taskmaster while working on his films, Hines was very much the comedian in real life, too, with dribble glasses and rubber rolls at formal dinners and a distaste for formality and "stuffiness" (he taught William Randolph Hearst how to do the "Black Bottom"). Because of his effervescent personality, he was very much in demand as a master of ceremonies. Constance Talmadge once referred to him as the "most amusing man" she had ever met.
Hines began acting on the stage while still a child, and made his debut in films in 1914. His first appearance was a one-reeler for Vitagraph, but then he spent the next five years working for World Pictures. Two of his films from this period, "The Cub" (1915) and "A Girl's Folly" (1917) are available on video.
Hines' biggest break came during a lull in his picture career while he was appearing in a play on Broadway. He attracted the attention of C.C. Burr, who was associated with Famous-Players Lasky, and a friendship and business partnership that lasted throughout the twenties was formed. Hines was first starred in a series of one and two-reelers in the "Torchy" series, but he hit on his forté in 1921 when he made "Burn 'Em Up Barnes," the first of many race movies. This movie, as well as "Conductor 1492" (1924) "The Crackerjack" (1925) and, of course, "The Speed Spook" are all available for viewing on video today.
Hines never married, although he dated some of the most beautiful women in Hollywood. He lived with and remained devoted to his mother until her death in the twenties, was very fond of children and dogs, and was a very religious man. In the sound era, he continued as a supporting star and did some writing and directing, as well. He died in 1970 of a heart attack.
"The Speed Spook" is not the greatest comedy to come out of the silent era, and it really isn't the best film Johnny Hines ever did, but it provides some exciting automobile racing, an appealing love interest, an acceptable story line and Hines' broad smile and charm for a good 73 minutes of entertainment.
---
Return to "The Speed Spook" page
Return to "The Speed Spook" synopsis
copyright 1999 by Tim Lussier, all rights reserved