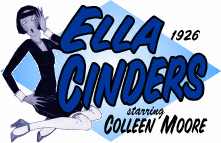 Commentary
In 1926, the year "Ella Cinders" was made, an industrial journal's poll of motion picture theatre owners named Colleen Moore America's number one box office attraction. With a string of hits like "Flaming Youth," "The Perfect Flapper," "So Big," "Sally," "We Moderns," "Ella Cinders," "Irene" and "Twinkletoes," it's no wonder.
Colleen Moore was equally capable in a dramatic as well as a comedy role, an admirable feat and evidence of her exceptional talent. "Ella Cinders" places her in a comedy role, and, although the story line is not very strong, her
performance is.
"Ella Cinders" was based on a comic strip of the period, and at least one reviewer has noted that she even looked like the strip's main character. The story, as one would surmise from the title, has more than a few similarities to the Cinderella story, but in a 1920's context. She lives with her evil stepmother and stepsisters, Lotta Pill and Prissy Pill. The story opens with her in a filthy basement cleaning out the furnace. Of course, the sisters and the stepmother are shouting for her to perform various chores. Later in the story is a "ball" at the Town Hall, and, when she leaves in a hurry, she drops one of her shoes on the way out the door. The Prince Charming in this story comes in the form of Waite Lifter, a handsome local iceman. Of course, we later learn he is a famous college football hero who hails from a wealthy family.
As noted, the story line is far from strong. Ella is able to leave her miserable living conditions when she wins a sham movie contest. She goes to Hollywood, makes good, and ends up marrying her hero, Waite. So, as you can see, it'll take more than this story to win the viewer. The strength in "Ella Cinders" is first and foremost Colleen Moore who is made much more enjoyable because of the gags she has been provided. For this, most of the credit has been given to future director Mervyn LeRoy who was the co-scenarist on the story.
For example, Ella is in the barn when she hears Waite call her. She opens the small wooden door that serves as a window, but a large poster has been hung on the outside of the barn covering the window. So, Ella simply knocks and hole in the poster and sticks her head through. Coincidentally, she pokes her head through a place on the poster where the head of a baby was. From the street, we see the picture of a black lady holding a baby in her arms, but Ella's head is on the baby!! The gag doesn't end here. Ella is caught by her stepmother who has come into the barn looking for her. After chiding Ella, the stepmother, out of curiosity, sticks her head through the hole just as the poster
hanger throws a big glob of paste on the poster to repair it. She falls back into the barn spluttering from the goo on her face. Ella uses the only thing handy to wipe her stepmother's face - her apron which is still covered with soot from cleaning the furnace. Of course, the paste is removed but replaced by dark, dirty soot on the old lady's face.
Ella is not intended to be a great beauty like Cinderella, so how is she supposed to win a contest for a movie contract against competition that is brimming with lovely young ladies? Remember, this is a comedy. In order to enter the contest, contestants must submit a photo of themselves. Ella saves her money and goes to the local photographer for a sitting. Unfortunately, just as the photographer snaps the picture, Ella crosses her eyes to shoo a fly off her nose. Of course, it's this "goofy" photo that wins the contest!
One scene from "Ella Cinders" is often seen in silent film compilations. Ella is reading a book on how to act and practices some of the suggestions about "expressive eyes." With the book up over her nose, all we see are Ella's eyes - one looking left, the other looking right, then one turns in with the other looking straight ahead, and on and on. It's puzzling at first as to how Moore was able to accomplish this feat until one realizes a split screen was used.
The scenes in the movie studio are well-staged and very funny, as well. After several attempts to crash the gate of the studio, she finally succeeds, but with the guard in hot pursuit. She sees a sign on a door that says "General Manager" and enters to elude the guard. A man is seated beside a desk, head hanging down. Just as Ella reaches the desk to speak to the man, she realizes she has entered a movie set and has ruined the filming of a scene.
One of the most enjoyable sequences in the movie has Ella enter a set where Harry Langdon is working. He helps her escape the guard by having her bend over, placing a tablecloth, and using her as a table as he sits and eats a bowl of hot soup.
After this episode, she walks in a screened in area that is filled with trees. She doesn't realize
this is a lion's cage. When she does, after mistaking the lion's tail for a power cord and trying to plug it into an electrical socket (it's too hard to explain - you just need to see it), she runs from the cage right into a set where they are filming a burning building. Ella doesn't realize where she is, and there are flames all around her. She can't go back out the door because of the lion, so she gives a sincere display of fear at being trapped in the dangerous situation. Actually the director thinks she is an extra that has been hired and is delighted with her performance. From this, she gets a movie contract and goes on to become a star. It is interesting to note that the director in this scene is actually the director of "Ella Cinders," Alfred E. Green.
This whole sequence from the time she tries to crash the studio gate until the director praises her "performance," moves along at a good pace with one hilarious gag following another. It's sharp, well-timed comedy and a good example of the why the silent era was the best comedy era ever.
There are good performances in the film, too - Vera Lewis as "Ma" Cinders, Doris Baker and Emily Gerdes as the "Pill" sisters, toothless Jack Duffy as the fire chief, and, of course, Colleen Moore who consistently gave excellent performances.
The print viewed is from Grapevine and is good to very good in quality. The original organ soundtrack is very appropriate.
What Others Said About "Ella Cinders"
Joe Franklin (Classics of the Silent Screen, Citadel Press, 1959)
"Her pictures were lively, full of fun, and must have made a fortune for First National. Even the least of them, like Ella Cinders, were thoroughly enjoyable."
Jack Spears (Hollywood: The Golden Era, A.S. Barnes & Company, Inc., 1971)
"Ella Cinders ('26), Colleen's next, was based on the popular newspaper commic strip and had a Hollywood setting. Miss Moore was the small-town slavey who makes good in the movies via the usual route of ruining a costly scene, a gimmick Harold Lloyd later used in Movie Crazy. The Hollywood sequences were particularly enjoyable, and Harry Langdon made a delightful, and all too brief, guest appearance. Colleen imitated Chaplin, Coogan and also Lillian Gish, but she looked so wistful and lovely that the gag fell flat. She was the whole show in a picture packed with comedy."
Jerry Vermilye (The Films of the Twenties, Citadel Press, 1985)
". . . most of the movie's charm is directly attributable to its delightful leading lady . . ."
"The picture is at its best when Ella is involved in some of the clever gags devised by co-scenarist Mervyn LeRoy at a time when that director-to-be as a top-notch 'comedy construction specialist.' Thus, Ella's hilarious session with a portrait photographer and her various faux pas on the sets of a motion picture studio, where she utterly devastates a day's shooting, provide classic examples of silent screen farce of the more gentle variety."
---
Click here to see the "Ella Cinders" synopsis
---
copyright 1999 by Tim Lussier. All rights reserved.