A Forgotten Hero
"Strongheart - the story of the movies' first German Shepherd star"
by Dan Condon
copyright 2000 by Dan Condon, all rights reserved
During the early days of silent movies there were many heroes. Some famous and some not so famous. Among these were some canine stars that brought more fame and fortune to the movie makers than to themselves.
Little if any is known about these canine stars. There was Teddy, a Great Dane ­ Jean, the Vitagraph dog who was a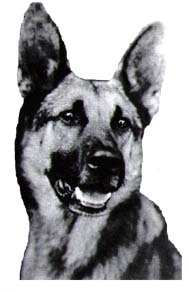 Collie ­ Luke, an English Pit Bull - and many others. In the 1920's many more canines appeared. Strongheart, Rin Tin Tin, Peter, Lightning, Flame, Champion, Ranger, Flash and Leader - all German Shepherd dogs. However, the first German Shepherd to star in the movies was Strongheart.
In 1920, famous animal trainer Larry Trimble and writer Jane Murfin decided to search the world for an unusual dog to bring back to Hollywood to star in some feature films. In Germany they found that dog. Born October 1, 1917, as Etzel von Oringer, Strongheart came from a carefully bred, highly efficient family of German Shepherd dogs. He was powerfully built, utterly fearless and weighed 125 pounds. Strongheart was three years old and had been trained as an attack dog. Although he had socialized very little with humans, Trimble knew this was the dog he was looking for and brought him back home to Hollywood.
Strongheart took to acting like a fish to water. He was no longer that trained attack dog brought home from Germany but a magnificent and loving, well-trained German Shepherd dog. After his first movie, "The Silent Call" (1921), Strongheart became a favorite of moviegoers of all ages. He traveled by train across the country making personal appearances. At every stop crowds of people were on hand to see this marvelous animal. From coast to coast, newspapers, magazines, the radio and signs were proclaiming "Strongheart" a sensational new star. Over the next few years he starred in several other movies ­ "Brawn of the North" (1922), "The Love Master" (1924), "White Fang" (1925), "North Star" (1925) and "The Return of Boston Blackie" (1927). He was also paired with Lady Jule, a beautiful female German Shepherd who appeared with him on the screen and with whom he sired many offspring.
While in the process of making a new movie, Strongheart slipped and fell against a hot studio light. The burn that seemed only minor had turned into a tumor in only a few weeks. Strongheart was suddenly gone, taken from those who admired him so much.
There is some discrepancy as to when Strongheart died, but an obituary in a Topeka, Kansas, newspaper gives the date of death as June 24, 1929. At any rate, it was too soon. His popularity did lead to the production of Strongheart Dog Food, which is still available today. There are a couple of books written with reference to Strongheart. Letters to Strongheart and Kinship with All Life written by J. Allen Boone (both available from Amazon.com), both of which are very interesting reading.
Strongheart also produced other famous German Shepherd dogs. "Lightning," Strongheart's grandson, made several movies during the 1930's including "A Dog of Flanders," "Wings in the Dark," "When Lightning Strikes" and several others. Another grandson named "Silver King" made some movies, but he was noted more for making personal appearances promoting his intelligence and teaching safety to children.
There isn't a lot written about these old canine stars. Many people don't even know they existed. But for those of us who admire them and watch their films, we will always remember these wonderful animals that were part of American movie history.
For more information on German Shepherd Dogs of the cinema, visit http://home.metrocast.net/~buggartt/bugga/
---